Top 8-Inch Car Subwoofers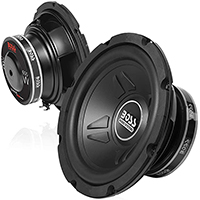 BOSS Audio Systems CXX8
Pros
Made from durable polypropylene
Relatively affordable
Free three-year extended warranty
Multiple models available
Cons
Negative reviews mention short life spans
Wiring and batteries not included
BOSS Audio Systems offers a few different models of subwoofers, with the 8-inch sub having a peak power of 600 watts. It's one of the most affordable models we found, but it does have a lower sensitivity rating of 83 decibels.
It includes a free three-year extended warranty, and the sub is constructed from durable polypropylene. The manufacturer recommends breaking this sub in at a lower volume for three to four hours to extend its life and avoid failure. While some reviewers had subs fail early, most customers were pleased with the small size and powerful sound.
As of publishing, it costs $34.99.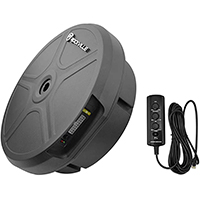 Rockville RockGhost
Pros
Under-seat and spare tire models
Steering wheel control available
Thermal, short-circuit and overload protection
Auto on and off
Cons
Spare tire installation more expensive
Only a one-year warranty
Rockville's RockGhost is one of the most popular subwoofers online, with most reviewers raving about the quality of bass. An 8-inch sub is available for both under-seat (400 watts/100 watts) and spare tire installations (800 watts/200 watts), and there are additional options for a steering control interface and output converter.
The sub has a few life-extending features, like auto on/off and overload and thermal and short protection circuits. Rockville offers a standard one-year warranty and includes all wiring you need for installation.
As of publishing, it costs $179.95.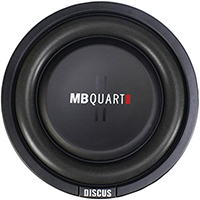 MB Quart DS1-204
Pros
Three-inch mounting depth
Resists sun fading and corrosion
Ideal for sealed enclosures
Front and rear venting
Cons
Only a 400-watt output
Only a one-year warranty
MB Quart's 8-inch subwoofer has a power rating of only 400 watts peak and 200 watts RMS, but its good reviews and comparatively affordable price make this one of the most popular subs with online retailers.
This model has a very shallow mounting depth of 3 inches, making it a great fit for limited space. Its front and rear venting provide a deep bass and improve cooling to extend the sub's life. It has a sensitivity rating of 81 decibels and an impedance of 4 ohms. Reviewers are mostly pleased with the fit and the sound quality.
As of publishing, it costs $59.99.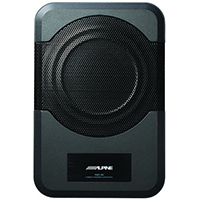 Alpine PWE-S8
Pros
Built-in amplifier
Professional installation available
Heavy-duty cast metal enclosure
Wired remote
Cons
Relatively expensive
Only a one-year warranty
Alpine offers this 8-inch subwoofer and 120-watt amp combo encased in cast aluminum that can be installed anywhere in the vehicle. The sub has a power rating of 240 watts peak and 120 watts RMS, with many using it to add some extra bass to an existing system.
Check the manufacturer's store locator for information about professional installation. Alternatively, you can purchase this sub/amp combo with a DIY installation kit.
As of publishing, it costs $240.75.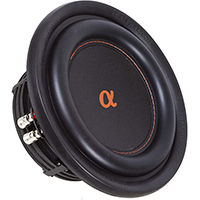 Alphasonik NSW408
Pros
Multiple sizes available
Heavy-gauge steel construction
750-watt max
Durable polypropylene laminated with fiberglass
Cons
Only a one-year warranty
No returns without manufacturer defect
This 8-inch subwoofer from Alphasonik is competitively priced and well-liked by those who installed it in their vehicles. With a 750-watt max and 250-watt RMS rating, this sub can produce a heavy bass and clear sound without being too power-demanding.
It has a 4-ohm impedance with a sensitivity of 86 decibels, and it's constructed from durable materials to keep it in action. Keep in mind that returns aren't accepted without a manufacturer defect.
As of publishing, it costs $89.95.
How We Found the Best 8-Inch Car Subwoofers
Choosing the best 8-inch subwoofers included comparing dozens of online listings, looking at details like price, reviews and product features. Only products with Prime delivery and 4 or more stars were considered. After reading customer reviews, we compiled a short list of the highest-rated products. This list includes a wide range of prices, power ratings and other features to help audiophiles of every budget.
Compare 8-Inch Car Subwoofers
| Brand | Model | Star rating* | Number of reviews* | Cost* |
| --- | --- | --- | --- | --- |
| BOSS Audio Systems | CXX8 | 4.3 | 3,541 | $34.99 |
| Rockville | RockGhost | 4.5 | 2,318 | $179.95 |
| MB Quart | DS1-204 | 4.5 | 345 | $59.99 |
| Alpine | PWE-S8t | 4.5 | 448 | $240.75 |
| Alphasonik | NSW408 | 4.3 | 268 | $89.95 |
*On Amazon, as of publishing date
What to Know About 8-Inch Subwoofers
When it comes down to the specs on an 8-inch subwoofer, here are the features you'll want to pay attention to:
Power rating: Power ratings for 8-inch subs can get up as high as 800 watts RMS/1,600 watts peak, providing plenty of bass and volume in a compact size.
Impedance: Subs may have an impedance of 2 or 4 ohms, with this measurement reflecting the coil's resistance to power coming in from the amp. A lower impedance uses less power and produces more sound but may not have as crisp of a sound quality.
Frequency: The sub's frequency determines the range of sound it's capable of reproducing. This number is measured in hertz.
Sensitivity: A subwoofer's sensitivity is measured in decibels and reflects how much sound the sub can produce from 1 meter away with 1 watt. The higher the sensitivity, the more sound the sub can produce with the power received.
Bottom Line: Are 8-Inch Subs Worth It?
Eight-inch subwoofers are affordable and compact and, depending on the mode, can provide a pretty good sound quality and bass level. With a lower price, this size is a good entry-level range for hobbyists, enthusiasts and those building custom setups. Read customer reviews to find a trustworthy brand and reliable model of subwoofer before making your purchase.
8-Inch Car Subwoofer FAQ
Eight-inch subwoofers generally cost from $30 to about $300. The average cost of the subwoofers we included on our list is about $120.
This depends on the subwoofer's power rating, sensitivity and impedance. Fortunately, there are plenty of loud 8-inch subwoofers available.
The strength of the bass depends on the sub's enclosure, power and impedance. An 8-inch, 2-ohm subwoofer with a high power rating will deliver plenty of bass.
A higher-power subwoofer will be the hardest-hitting on the market. The highest-wattage subwoofers have peak power of more than 1,600 watts and RMS of 800 watts.
Measure your available space, and use this measurement to find a subwoofer or combination of subs to fit your trunk or under-seat space. The larger the sub, the harder the bass.