Eee 1000H unboxed & Vista Ultimate installed: performance surprisingly good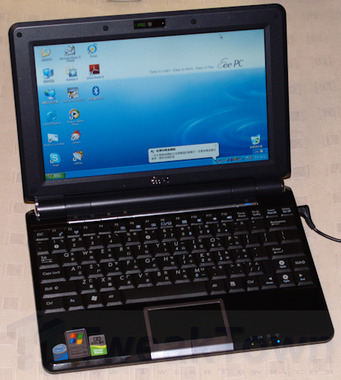 We already know how much it'll cost (read: plenty) and that its smaller 901 sibling holds up well performance-wise, but so far in-the-wild footage of ASUS' Eee PC 1000H have been pretty rare.  Having gone on sale in Taiwan last Wednesday, TweakTown managed to find someone with stock and have shot an unboxing video together with a whole lot of first-impressions.  True to their name, they've also had the chance to do some OS tweaking.Check out the unboxing and a switch from XP to Vista after the cut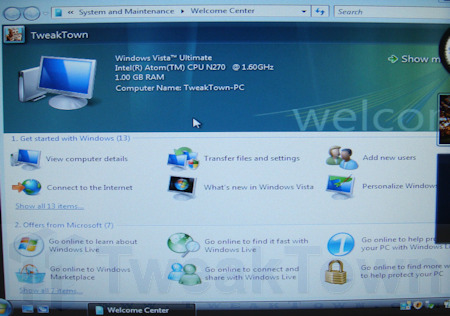 First impressions are good, with the 1.6GHz Atom processor and 1GB of RAM doing such a good job that they wondered exactly how well might Vista Ultimate run.  So out came an external optical drive and on went Microsoft's latest- often accused of being too swollen for these budget ultraportables – taking just 30 minutes to install.
Straight off the DVD, Vista was reporting a weak Performance Index of just 1; after installing all the latest driver and patch updates, however, that climbed to 2.7 (graphics up to 4 and gaming graphics at 2.7, in fact).  Real-world performance is reportedly "surprisingly good", with the consensus being that the SSD version of the 1000 (the 1000H uses an 80GB HDD) would be even smoother.  Praise is also due for the speed at which the Atom CPU switches between performance and economy settings.
You'd probably not want to run Vista full-time on any of the smaller Eee notebooks, but it looks to be a real possibility on the 1000-series.  If anything, it just confirms that the largest Eee blurs the line between "budget ultraportable" and "low-end normal notebook"; if Vista's power-saving functionality ekes out much better battery life, then that could be a reasonable answer to critique that the 1000-series is too expensive.
Unboxing video:
Install of Vista on Eee PC 1000H: