EasyNote XS - Packard Bell enters the UMPC market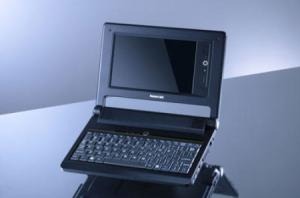 I'm still amazed that Packard Bell is alive and kicking. I thought that old clunker of a computer my grandpa had would have been the last one I'd see. Yet here they are, showing off a UMPC of all things.
The Packard Bell EasyNote XS is a tiny little 7-inch UMPC that is only 1.18 inches thick and weighs just 2.09 pounds. They've managed to squeeze in a full-size keyboard, so you hopefully won't have any trouble typing. It is powered by a VIA C7-M Ultra Mobile CPU and runs Windows XP.
You'll also get two USB 2.0 ports, a 30GB hard drive, 1GB of RAM WiFi and an integrated webcam. Battery life will only be around 3 hours with WiFi enabled. No word yet on pricing or availability.
Packard Bell Announces EasyNote XS UMPC [via dailytech]