Dymo Mailing Solution Review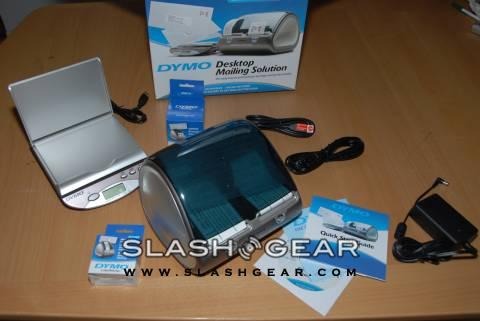 Dymo's desktop mailing solution is a two piece kit with a twin turbo labelmaker and 5lb scale. Both are compact and the label maker has a nice modern design that looks good sitting next to my computer. Tres cute! But most importantly the thing works.
The labelmaker prints using heat, I don't know how this works exactly but it means no ink, no toner, no smears. This translates to no extra costs and no trips to the store searching for ink number 27332847232 only to find that there out. You have 40+ size and style labels to choose from and the label maker can hold two different sizes at once. Switching between labels is as easy as clicking left side or right side. The program is very user friendly and didn't leave me flipping thru a manual all night long trying to figure it out. Some basic clipart is included or you can add your own photos, just imagine the possibilities. Soon the cable company will get to see just how cute my dogs are.
One of the best selling points is the ability to print stamps. Yes real post office approved postcard, first class, priority mail stamps. We all know the post office is notoriously slow and always seems out of the way so as bonuses go this is a big one. Dymo has an online stamp account you can sign up for free and you just pay for the postage you need, no extra costs or contracts. With the included scale you won't have to guess how many stamps you need, all while being offical and approved by the postal service.
Overall it's easy, fun to use, and nicely designed. You'll be able to make your letters or packages look more professional and personal while saving time in the process.