DXG-579V included in holiday pack at Kohl's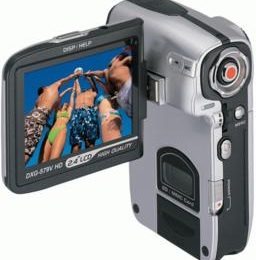 If you're looking for an affordable camcorder in time for the holidays, then you might be interested in the DXG-579V, which will soon be available in a holiday pack from Kohl's that's sure to fulfill all of your video-taking needs.
Sporting an upright form factor, the DXG-579V is a digital camcorder with a 720p video capture and the ability to take still photos with up to 8 megapixels. It features a 2.4-inch rotating screen, and records H.264 video and MOV format videos in up to 1280 x 720 with 30fps.
The holiday pack from Kohl's will include this new camcorder, a tripod, a 2GB SD card that can store up to two hours of HD-quality video, a protective pouch, rechargeable batteries, AV cables and ArcSoft TotalMedia Extreme software for editing your footage. The holiday pack will go on sale starting on Black Friday, November 28th and will run until New Year's Eve. No word on pricing just yet, but you will be able to pick from classic silver and midnight black color options.