Dual-screen YotaPhone offers 4.3-inch LCD and e-ink displays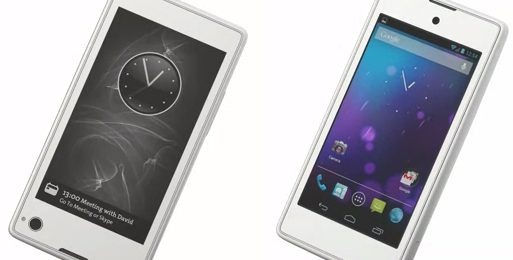 If you've ever wanted the best of both worlds on a mobile device (that being a LCD display and an e-ink display in one), your lucky day will come. A company known as Yota Devices will be launching what they call the YotaPhone, which features two 4.3-inch displays, one that's LCD and the other that's e-ink.
Each 4.3-inch display can serve different functions and purposes. Users can use the LCD display to watch videos and play games, or they can flip the phone over to read a book or magazine on the e-ink screen. The YotaPhone's e-ink display can also be used to show important information, like reminders, maps, notes, etc.
The upcoming dual-screen phone will run Qualcomm's Snapdragon MSM8960 chipset, which packs a dual-core 1.5GHz processor, and will offer 2GB of RAM and 32GB of internal storage. The phone will even come with LTE capabilities, and feature a 12MP rear camera. The LCD screen will have a 720p resolution and will be the first smartphone to feature Corning's newest 3D Gorilla Glass.
We've recently seen something similar to this for the iPhone. The popSLATE, which is an iPhone case that features an e-ink display, is on Kickstarter right now, and the company has successfully funded the project, which means we'll see both Android and iOS devices equipped with dual screens sooner or later. The YotaPhone is expected to ship in Q3 2013 and will officially be unveiled at Mobile World Congress in February.