Droid Pro Review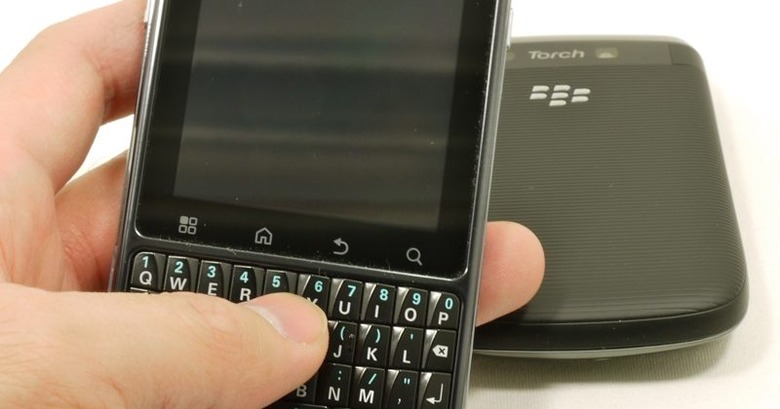 Android devices may be storming the market in terms of sheer numbers but, with a few unusual exceptions, most manufacturers have stuck to basic touchscreen candybars or horizontal QWERTY sliders. Motorola's latest handset, the Verizon DROID PRO, seemingly looks to Canada for its inspiration: its distinctly BlackBerry styling mark it out as a more serious messaging device. Has Motorola beaten RIM at its own game, or is the DROID PRO a form-factor footstep too far? Check out the full SlashGear review after the cut.
Hardware
There are compromises involved whichever smartphone design you choose: all-touch candybars have to make do with virtual keyboards; QWERTY sliders or folders have the added bulk of a hinge mechanism, and the DROID PRO loses screen real-estate. At a time when we're used to seeing 3.7-inch or larger Motorola Android devices, the DROID PRO is a mere 3.1-inches running at HVGA resolution. It takes up the top two thirds of the handset, and while 480 x 320 is a fair step down from the 854 x 480 on other recent Motorolas, when spread over a smaller panel it's less obvious than you might expect, and decent touch responsiveness goes a long way to making up for the reduced scale. In comparison to the 480 x 360 BlackBerry Torch it's a narrower screen, though the handset overall is also slimmer than the RIM slider.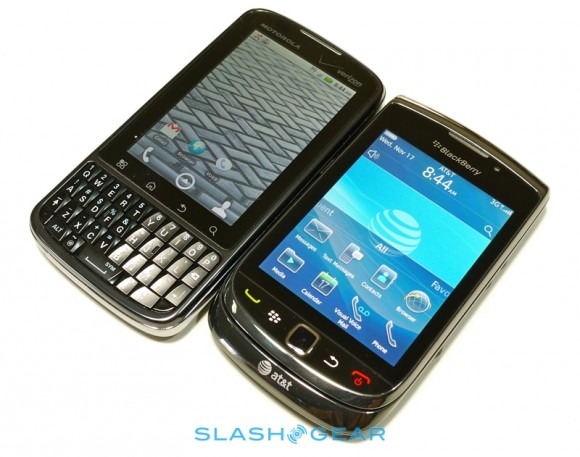 On the lower third is a QWERTY keyboard, and it's here the BlackBerry similarities really kick in. Viewed side-by-side with the Torch, you could well think the 'boards were from the same company: each has a heavily bowed keycap with pronounced ridges to guide the fingertips, and each is snappy and responsive. The number and symbol layout is different on the Motorola, pushing the number keys to the top row rather than as a block, and there are dedicated @, comma and period buttons which we prefer. Despite the relatively narrow width, this is one of the best hardware keyboards on an Android device at the moment.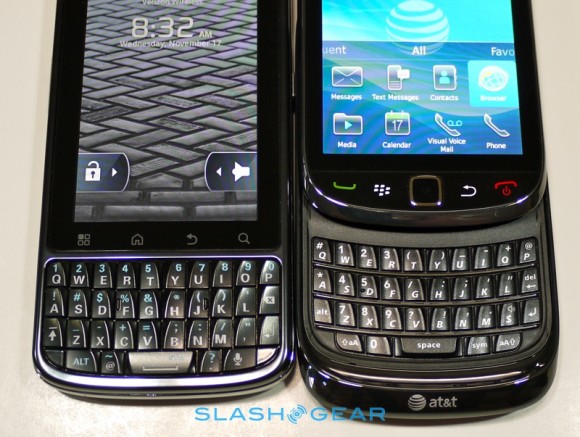 In-between the screen and keyboard there's a row of the usual four touch-sensitive controls: menu, home, back and search. No optical trackpad, however, which is a shame considering it would be well-placed for thumbing. On the top there's a 3.5mm headphones jack and the power/standby button, while the volume rocker and a microUSB charge/sync port are on the left side. On the right is a user-assignable multifunction key, preset to load the calendar, but easily changed to trigger the camera, media player or whatever app you'd prefer.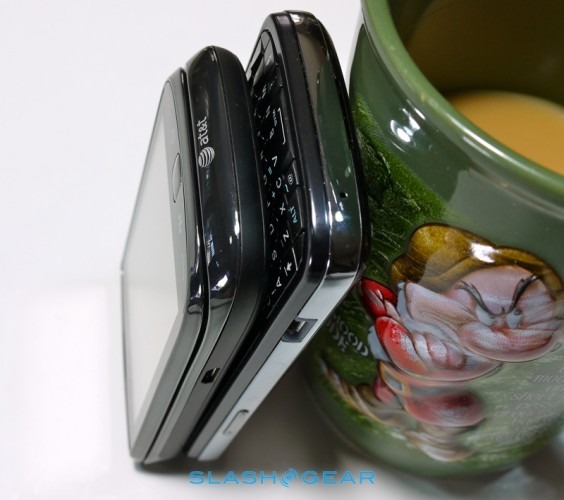 On the back is a 5-megapixel autofocus camera with dual-LED flash, embedded into a slightly protruding bulge across the top edge. The whole back panel has a translucent, wavy pattern across it, while a band of silver-effect plastic runs around the outer edge of the phone. It's solid, but we'd prefer more metal in a business device.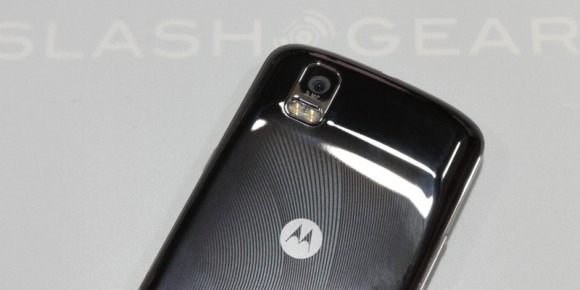 Altogether, though, it's a surprisingly compact device, with press shots proving misleading as to its perceived blockiness. In fact it measures 119 x 61 x 11.7 mm and tips the scales at 134g; longer than the Torch, but otherwise narrower and thinner. It's also one of Verizon's so-called Global devices, packing the usual CDMA/EVDO Rev.A connectivity for use in North America, together with quadband GSM/EDGE and triband UMTS/WCDMA for use abroad. There's also WiFi b/g/n and Bluetooth 2.1+EDR, along with GPS, a digital compass, proximity and light sensors. Motorola has used the same 1GHz TI OMAP processor as in the DROID 2, with 2GB of onboard storage and a microSD card slot (Verizon pre-load a 2GB card).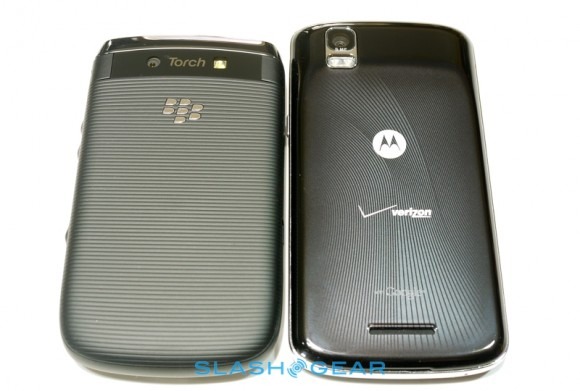 Software
We're glad to see Android 2.2 Froyo on the DROID PRO, though it's not a clean install; instead, there's Motorola's MOTOBLUR-inspired UI, a halfway house of sorts before the full MOTOBLUR experience which has seemingly been relegated to the company's entry-level consumer-centric devices. There's the full gambit of Google apps – Maps, Gmail, the Android Market, etc. – along with Skype Mobile, QuickOffice, a File Manager app, Mediashare and AuthenTec's VPN client.
There's also business-friendly functionality, such as encryption and more complex root certificate management, and you can remotely wipe or lock the handset (and the microSD card) with the right server-side software. Password expiration and automatic-wipes are also supported. We've no qualms about performance, the 1GHz CPU keeping things moving slickly and pretty much lag-free, though the limited resolution and display size does begin to grind after a while.
Log in with your Twitter, Facebook, LinkedIn and other social networking accounts, and the DROID PRO pulls in recent updates from your contacts and slots them into their respective Contacts app entries. There are also various resizable homescreen widgets, from which you can view updates in one or more of those networks, as well as post status changes of your own. It's worth noting that this is Motorola's own system; there are official Facebook, Twitter, MySpace and other network apps available in the Android Market, which generally have more functionality but less integration with the overall system.
Browser & Messaging
With Android 2.2 comes Flash Player 10.1 support, and the usual arguments about whether mobile Flash is worth the inevitable browser sluggishness. Suffice to say, we'd rather have the option than not, and it's possible to turn Flash off altogether or set it to only load on-demand, making everyday browsing lag-free. There's pinch-zoom and the usual Android extras, but the experience is underwhelming thanks to the smaller screen size.
Messaging, meanwhile, is the usual combination of a Gmail app and then a separate Mail app for everything else. You get Exchange support, together with POP and IMAP, and there's a decent amount of granularity over which folders synchronize, how labels are handled and whether you view the full contents of your inbox or only certain categories of message. Unfortunately, there's less flexibility in instant messaging, and while the Torch gets RIM's popular BlackBerry Messenger service, the DROID PRO makes do with Google Talk. Still, there are various third-party IM options available in the Android Market (in comparison, the BlackBerry App World feels pretty sparsely populated).
Camera & Multimedia
At 5-megapixels, the DROID PRO's camera isn't exactly top-end for an Android device, but it comfortably exceeds the 5-megapixels the BlackBerry Torch offers. Motorola has tweaked the standard Android camera app, and though the UI is a little cramped on the smaller display, we're glad to see the extra functionality. There are eight different scene modes as well as color effects, and of course more basic control over things like the flash. As with all LED flash units, you're limited to the effective range, but the DROID PRO is certainly brighter than many cameraphones we've seen. It's worth noting that, even if – like we did – you set the hardware shortcut button to trigger the camera, it won't then also take the photo itself; you still have to use the on-screen button.
Image quality is surprisingly good for a 5-megapixel camera, better than the results we managed from the DROID 2. Decent automatic exposure and good color balance make for strong shots, and though poor lighting forces you to deal with the LED flash's range sweet-spot, once you've got to grips with it we found it more useful than normal.
What you don't get is 720p HD video recording, though the 720 x 480 30fps clips were smooth and well detailed. There's no HDMI port for easy connection to an HDTV, and while we can see it being outside of the scope of most business users, the benefits in being able to show presentations or documents direct from the phone seems a missed opportunity.
Phone & Battery
Phone performance was average, though there's no advanced DSP as we've seen on, say, the Motorola DEFY. The speakerphone was solid, and Android's voice-control functionality is surprisingly flexible for hands-free use (you also get a dedicated voice-input button). Meanwhile mobile hotspot service is supported, sharing the DROID PRO's 3G connection with up to five WiFi-tethered devices.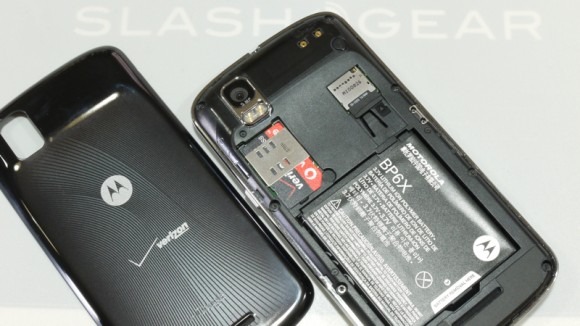 Motorola quote up to 390 minutes of talktime from the DROID PRO's standard 1,420-mAh battery, or 330 hours of standby. With the smaller display requiring less power than some of Motorola's larger devices of late, we comfortably managed a full day of use with push-email turned on and some calls, messaging and browsing. Nonetheless, RIM's BlackBerry range still has the edge when it comes to power management.
Wrap-Up
There's a lot to like about the DROID PRO, not least one of the best keyboards on an Android device today. That Motorola seemingly had to look to RIM's design in order to achieve that may prompt a few fanboy arguments, but the end result is excellent provision for heavy emailers. Those who spend their time browsing, however, may want to look to other phones, given the cramped display and relatively low resolution on offer. It's not a deal-breaker, especially if you're used to the typical BlackBerry screen, but it's a pain-point if you've come from another touchscreen-centric Android handset.
As for Motorola's business ambitions, the DROID PRO is probably the most enterprise-friendly mainstream phone running Android, but despite the addition of a VPN client and QuickOffice it still falls short of what a well-provisioned BlackBerry offers. That's undoubtedly down to RIM's track record in catering for business use, and our expectations of preloaded software; Motorola could do worse than to load either a solid multi-platform IM client or develop one of their own, to take some of the appeal away from BlackBerry Messenger.
This is definitely a device for email and messaging addicts, however, and if you spend more time gaming or browsing on your cellphone, the compact display is unlikely to satisfy. Still, we'd opt for the DROID PRO over the BlackBerry Torch, the more compact phone giving up little when it comes to the keyboard and offering a larger breadth of third-party apps and an OS that feels more intuitive than BlackBerry 6.
Unboxing and hands-on with Droid Pro
[vms 11002af340cbaedd6fc3]