DIY ASUS Eee PC touchscreen kit under $100

The news that ASUS is considering a touchscreen version of the Eee PC seemed like a pretty natural progression, but if you're unwilling to wait until the official EeeTablet then this DIY kit seems the cheapest way so far to add touch functionality to the 7-inch notebook.  Consisting of the touch panel itself, together with a controller board (that keeps your webcam working while also adding two extra USB ports) and the tools necessary to fit it, it's apparently as easy as unscrewing the bezel and plugging in a few cables.  They're also offering optional Bluetooth.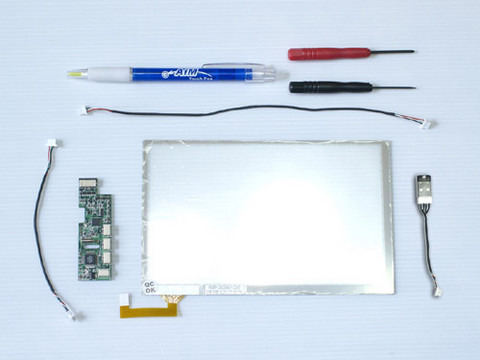 Of course, there's nothing to stop you breaking open a Bluetooth adaptor you already own and fitting that instead, but that perhaps misses the point of it all being super-straightforward.  It seems to use the USB connection that would normally handle the Eee's webcam, adding the three-port hub and also hooking up the touch-panel itself.  If you've got the version of the Eee without a webcam, a suitable USB cable is included too; that requires opening up the keyboard, though, which will break the warranty stickers.
Best of all is the price: an estimated sub-$100 tag makes for a very reasonable upgrade.  Expect that price to be even more competitive once these kits hit eBay. 
[via jkkmobile]