DiXCOM Sat-Nav bundles a phone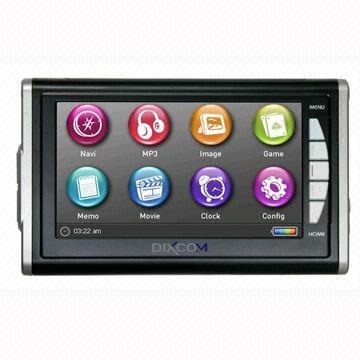 Why is it that so many no-name manufacturers come up with feature-filled products?  You see it each time Apple brings out a new iPod – seemingly within minutes a knock-off design is available, only with twice the feature list and generally at half the price.  GPS is another flourishing area, with rivals to TomTom and Garmin unveiling complex and flexible alternatives that, most likely, you'll never see on shelves.  Today's heritage-free company is DiXCOM, and their product the CNS-4320: a sat-nav with built in cellphone.
Now don't go thinking it's a rival to the Nokia N95 – this won't give the Finnish all-singing, all-dancing handset a run for its money.  But in comparison to, say, the TomTom One you're looking at a pretty special package.  Not only does it use the industry-standard SiRF-III GPS receiver, it has a full GPRS cellphone inside which allows for SMS and MMS messaging, Bluetooth hands-free calls and downloading traffic updates.
Built on Windows CE 5.0, there's a rudimentary image and text viewer, memo pad and audio/video DAP, all accessed via a 4.3-inch widescreen touch-panel.  It'll also manage multi-tasking, playing music while you use the navigation features and interrupting the song to give you directions.
No price as yet, nor availability details, but I've no doubt that these are features we'll be seeing on next year's mainstream devices.
DiXCOM CNS-4320 [GlobalSources]