DigiFi Digital Opera Kleer wireless earphones on sale in US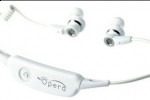 If the lossless wireless sound offered by Sleek Audio's W-1 adapter appeals, but your budget doesn't exactly stretch to the $320 the company asks for a set of SA6 earphones and the wireless system, DigiFi's Digital Opera earphones may fit the bill.  First announced back in May, up until now the earphones had only been available in Korea; now, Kleer themselves are offering them – together with other products using their lossless technology – in the US.
Available in white or black, the DigiFi system comprises a transmitter – with a 3.5mm plug – that hooks up to your iPod, PMP or laptop, and a headset.  The industrial design is almost identical to Sleek Audio's W-1 system, only the DigiFi earbuds are fixed rather than removable like the SA6's.  Still, that means using the Digital Opera headset is likely to be very simple, just a case of hitting both buttons on the transmitter and receiver and waiting a second or two for them to synchronize.
DigiFi are suggesting you can see in excess of 10hrs of playback through the headset, with a 20HZ to 20KHz frequency range, 86dB signal to noise ratio and less than 0.1-percent distortion.  The short-range Kleer wireless has 2.37Mbps bandwidth and a range of up to ten meters
The DigiFi Digital Opera wireless headphones are priced at $98 each, and available now.  One transmitter can be used with up to four headsets, and anything based on Kleer technology – meaning the DigiFi, Sleek Audio and Sennheiser headsets – can be used interchangeably.