Diamond-Studded Sneakers- $50k worth of rock it's alright to be seen with.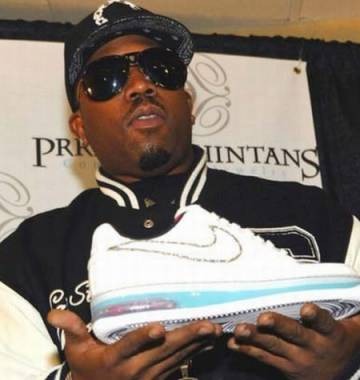 Shoes are something I've never understood the craze over. I know people still rush out to buy the newest, most expensive trend everyday but for me... I just don't get it. Unless of course they are Bumble Bee Mary Janes and then I, too, turn into that girl from the "Shoes" video.
If there is one type of person, I think, that is even crazier about shoes than girls in general it would those in the rap/hip-hop genre. I'm positive that the new diamond encrusted air Force 1 'So Cals' being sold at Atlanta's Lace Up Boutique will be that next big trend, or at least be the starting point for it. The Nike logo on the shoe is cast in gold metal and surrounded by 11 carat diamonds which are studded in casings held together with fine gold stitching.
Did I mention that these shoes cost $50,000? Even though I do think it's going to springboard into something huge, I don't think your average Joe is going to be able to participate in this trend, unless of course you can snag yourself a free pair, but then again the free pair they did give away went to rapper Big Boi. Why do they give away free stuff to people who can afford it? Give me a free pair and then I'll sell them to Big Boi at half price! It's a win/win situation.
Go Luxurious With $50,000 Diamond-studded Sneakers [via Born Rich]