Dell confirms shipping delays in Inspiron laptops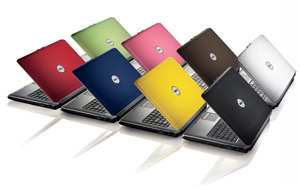 Remember that piece a couple of weeks ago about Dell's shipping problems with their new colored Inspiron laptops? It looks Dell has officially owned up to this in their Direct2Dell blog.
Apparently they are having an issue with the quality of the paint used on the laptops which is causing the delay. They have confirmed that the plain black and white models are shipping out in a timely fashion, however, choosing one of the other 6 colors will ensure a long wait time.
On one hand I commend Dell for catching the quality issues and not just shipping them out anyway. Unfortunately, many customers have likely lost faith in you for delaying their shipments. You just launched a huge initiative with your colored notebooks in time for back-to-school, but if you keep it up, students will be taking finals by the time they actually get their notebook. You can bet next time around they'll be ordering a shiny new HP or Toshiba..
Dell's Paint Woes Creep Into Inspiron Notebooks [via dailytech]