Custom iPod cases from Gerbera Designs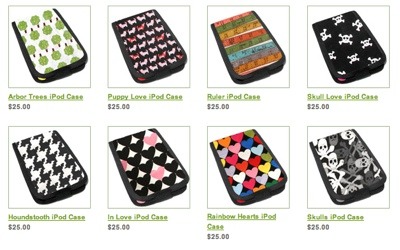 If you have a fancy for cool iPod cases then Gerbera's Designs will give you plenty to choose from. Even a few for the guys.
All designs from Gerbera are hand-made by Vanessa Brady with her trusty sewing machine Sally. After getting herself an iPod herself she found herself bored with the cases out there and decided to make her own line.
Each case is custom made for you so it takes a 2-3 weeks to arrive. The covers are made with reinforced fabric, foam padding and a clear plastic casing. It even has an opening for a mic port, chrarger opening and velcro closure. It comes in six different iPod sizes to snag yourself one it will only cost you $25. They are also working on a line of iPod friendly totes.
Gerbera Designs funky iPod covers with Sally her sewing machine [via popgadget]