CTIA 2012 round-up: Accessories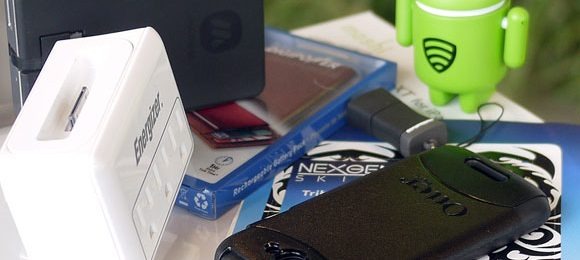 The two big categories of interest at CTIA 2012 as far as we're concerned are Devices and Accessories, the latter being what we're going to have a look at today. Have a peek back at our CTIA 2012 Devices round-up from yesterday and prepare yourself here for a set of oddities and masterfully executed device helpers such as you've never laid your own eyes on before! This year's CTIA was a little bit more tame than in past years for how powerful a delivery of devices it was, so we had a chance to hit accessories hard – behold the fruits of our labor, one by one!
Start your journey down accessories way with none other than the folks who brought you the PowerBag with the myCharge extended battery lineup 2012 refresh in full hands-on fashion. A brand new company you're going to want to keep your eyes on is NEXGEN Skins for their dimensional gadget coverings of all kinds – a completely new solution! During the second of two big keynote presentations, VISA President John Partridge brought on the accessories talk as he announced that they'd "moved beyond" NFC for their mobile payments across the earth – they'll still use NFC of course, but it's bigger than all that!
One device that sort of bridges the gap between device and accessory is the Jabra Supreme UC Bluetooth headset with its flip-up microphone and noise cancellation in droves. Energizer brought on some multi-power chargers with clamps and lights. On the truly thin side, Digipower ChargeCard mini powerpacks stole the mini side of the show.
In what was easily the most impressive display of the show, Tech21 and their "Impactology" brought on a hammer to the goo – and tossed an iPhone against a wall to boot! The fashion forward folks at Moshi brought the Moshi iGlaze Versacover to the show to show everyone what it means to take an Apple design to the next level – believe it or not!
Otterbox brought their A-game with a collection of new cases for the HTC One series and DROID Incredible 4G the same day it was announced! AT&T brought us to a house where they had a whole array of accessories brought together to form the Voltron of home automation systems: AT&T Digital Life in person! SuperTooth came on strong with some brand new SuperTooth Bluetooth Melody Headphones in a lovely shade of purple.
We saw a cool new in-car Clarion Next Gate iPhone dashboard controller with tap-tastic features onboard a 7-inch display. The folks at HzO Waterblock Hydrophobic smartphone coatings showed us what it really means to be waterproof. And the hits just kept on coming! Have a peek at our [CTIA 2012 portal] for our entire collection of on-site adventures as well!