Converting Pool Table: A very(table) work of art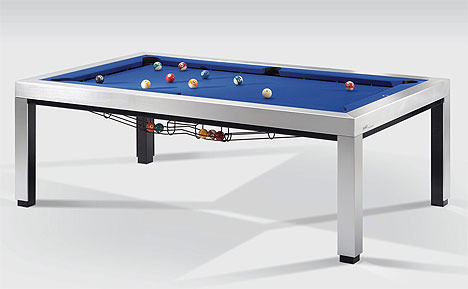 Because I am rubbish I was never all that good at sports in school.  Rugby was muddy and football required too much leg/eye co-ordination; cricket was dull and anything involving throwing a ball into a hoop was, to say the least, several evolutions beyond me.  Thankfully there exist, when communal showering and regulation kit is left behind, games that require little physical investment and can be picked up and neglected at will.  Take, for instance, pool.  While there are of course people who play it professionally, for the majority of us it's a 50-pence-a-time game at the local pub.  It'd be nice to have the facility at home, but few can justify or spare the space necessary for a dedicated table. 
There have been other convertible pool tables, but they tend to look like a pool table with a big piece of wood on top of it.  Not classy, not convincing, not SlashGear-worthy.  Chevillotte Billiards, however, is a 147 year old company who have actually given the multi-function games table concept some serious thought, and designer Bernard Moise's delectable creation is worthy of any contemporary living space.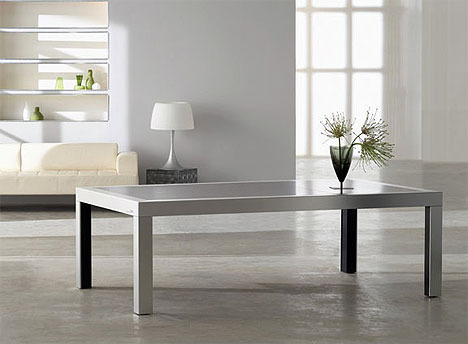 Called very(table), a knowing nod to the word "real" in French, players can convert the table from coffee to dining to pool by removing protective wood veneer top panels (and storing them in a hidden drawer) then inserting and turning a handle to raise the legs and lower the game surface.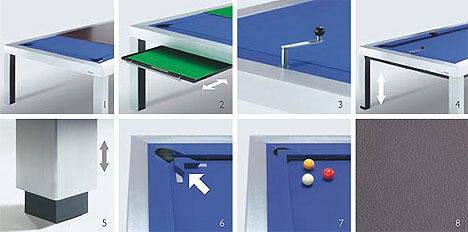 There's a great animation of the table in action on the Chevillotte Billiards site.  Price appears to be on request only.