This week the folks at comScore have revealed their Top Smartphone OEM list for the 3 month period average ending in December 2012, showing HTC to be in third place behind Apple and Samsung. Apple remains the dominant force in this three month average at 36.3% of the market for smartphone manufacturers while Samsung sits strong in second with 21% of the market. Third place belongs to HTC with a bit more than one out of every 10 smartphone subscriber in the market in this study period in the USA.
With this study comScore is comparing a three month period average ending in December with a three month average ending in September, both inside 2012. These quarters of the year show that the percentage of the market that each of the top 5 manufacturers control really hasn't changed a significant amount through the last half of 2012. Apple went up 2 points, Samsung went up 2.3 points, HTC went down 1.8 points, and Motorola went down 0.7 points – then there's LG in fifth place having went up 0.5 points to earn 7.1% of the market in the final quarter of the year.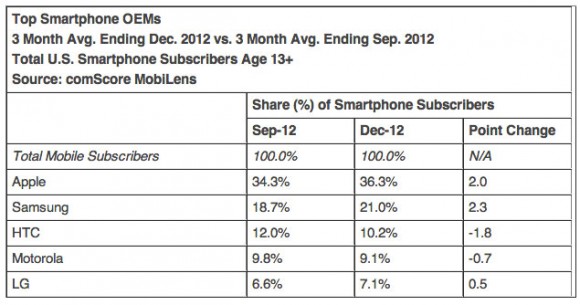 These numbers should have HTC hopeful for the future as their most recent earnings report had them less than pumped up about their year-over-year results. HTC also holds a mighty fourth place in the world market according to the 2012 overall year statistics for smartphone manufacturers as reported by IDC – well played! Now they've just got to retain their spots or grow with their "new sound and camera experience" in early 2013 to keep this show on the road.
This same comScore report out Google in the lead for the 3 month average for Top Smartphone Platforms in the USA with Apple in second and the two taking a massive 89.7% of the market overall. After that it's BlackBerry, Microsoft, and Symbian holding on tough with nearly 9% of the market between the lot of them – harsh!
Have a peek at the timeline below to see additional recent results from IDC to see how they track the many worlds of electronics!
[via Apple Insider]