Columbia Pictures content mostly available on Xbox 360 Netflix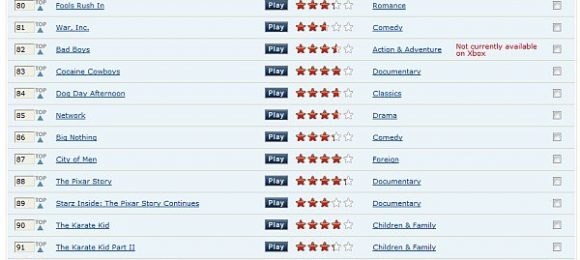 Sony Pictures' denials still ringing in our ears – and the conspiracists' theories ringing perhaps even louder – the bulk of subsidiary Columbia Pictures' movies have lost their "not currently available on Xbox" tag and can now be streamed through the New Xbox Experience update.  No official announcement or explanation has been given, suggesting that (if Sony's argument is believed) the ongoing licencing discussions have reached at least a partial agreement.
There are still a minimal number of movies that are still listed as unwatchable on the Xbox 360, including Bad Boys and Walk Hard: The Dewey Cox Story.  The particular titles all seem to have the "available through Starz Play" logo. 
Netflix streaming was one of the flagship features of the New Xbox Experience update released earlier this month.  Many were surprised, therefore, to see hundreds of titles not available to view through the console, which Sony Pictures attributed to the absence of a suitable licencing deal. 
[via Engadget HD]