Clearwire portable WiMAX WiFi router imminent [Updated with Video]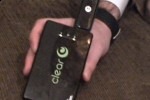 Clearwire are preparing to launch a portable WiFi router compatible with a Motorola WiMax USB stick modem, intended for sharing a WiMAX connection with more than one user.  The router, seen here in prototype form, was demonstrated at the official Clear launch in Portland, Oregon, yesterday.
Video demo of the Clear router after the cut
Although a WiMAX router has been announced by ZyXel, it will require a separate subscription to a USB modem for an individual device.  With this Clearwire router, the same USB modem could be used for mobile surfing as well as home internet connection.  Clearwire are apparently keen to promote devices such as these, which will share out a single connection, rather than seeing them as a bandwidth threat.
According to Scott Richardson, Clearwire's strategy officer, the router will cost in the region of $125 and be available "soon", possibly even as quickly as February 2009.  The final product will also be smaller than this prototype, more "like a hockey puck".
[via Engadget]