Chuwi Hi10 Plus Review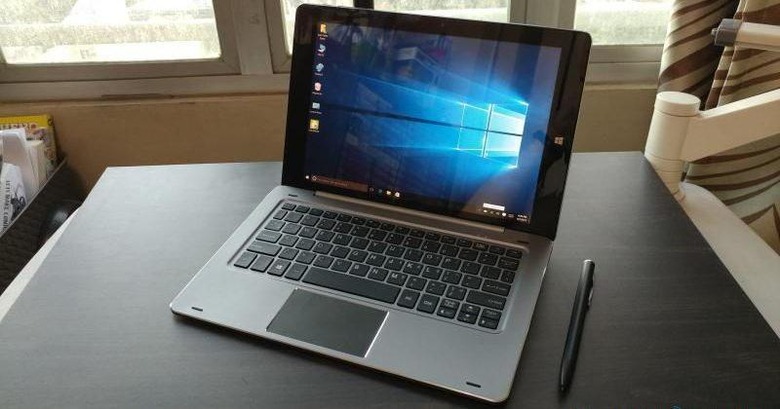 We may receive a commission on purchases made from links.
Once upon a time, the big names in the device market tried to put Google's Android and Microsoft's Windows side by side on the same machine. Neither platform maker was happy and the likes of Samsung and ASUS backed out for fear of earning their ire. This gave other smaller players, like Chuwi here, to thrive in a market very few dared. The Chuwi Hi10 Plus represents one of the latest of such devices, combining the power of Windows 10 with the mobility of Android in one affordable package. But how does that tempting promise perform in practice? We take the Chuwi Hi10 Plus for a whirlwind tour to find out.
Taming expectations
Let's address the elephant in the room from the start. This is no Microsoft Surface 3. It is almost too easy to compare the two, especially considering how similar they are underneath. But one is a $499 device and the other is $199. And while there could be some miracles like that in the smartphone world, it's admittedly harder to pull off when talking about tablets, especially 2-in-1 PCs. When you put your price that low, something has to give.
That being said, you will have to take the Hi10 Plus for what it is: a dual boot Windows and Android tablet with a dirt cheap price tag. It is going to be comparable to some Intel Atom tablets, yes even the Surface 3, but it is its own beast. Keep that in mind and you might be in for a surprise.
Hard numbers
Disclaimer aside, let's get down to business. And by that, I mean those specs that no tech review would be complete without. Here is a quick rundown of those hardware bits that make up the brain and muscles of the Hi10 Plus.
• Operating System: Windows 10, Android 5.1• CPU: Intel Atom x5-Z8350, 1.44 GHz quad-core• RAM: 4 GB• Storage: 64 GB, microSD up to 128 GB• Display: 10.8 inches, 1920x1280• Main Camera: 2 MP• Secondary Camera: 2 MP• Connectivity: 802.11 b/g/n, Bluetooth, USB-C, micro USB, micro HDMI,• Battery: 8,400 mAh• Dimensions: 276.4 x 184.8 x 8.8 mm• Weight: 686 g
Those who keep tabs on all kinds of tablets might see some familiar figures here. The Intel Atom x5 series seems to be favorite of budget Windows 10, and some Android, tablet makers. In fact, the Hi10 Plus' x5-Z8350 is just a notch lower than the x5-Z8550 found inside the Lenovo Yoga Book. It is, sadly, a class below the Intel Atom x7 series, like what the now practically obsolete Surface 3 has.
And speaking of the Surface 3, this is where it's hard not to make comparisons. In almost every aspect except one or two, the Chuwi tablet has something comparable. 10.8-inch 1920x1280 3:2 screen? Check. Nearly the same dimensions? Check. One key difference is that the Hi10 Plus comes with 4 GB of RAM and 64 GB of storage. On the Surface 3, the 4 GB RAM configuration is paired with 128 GB of storage. The other difference is that the Chuwi 2-in-1 has 2 megapixel cameras, front and back, that are not worth writing home about.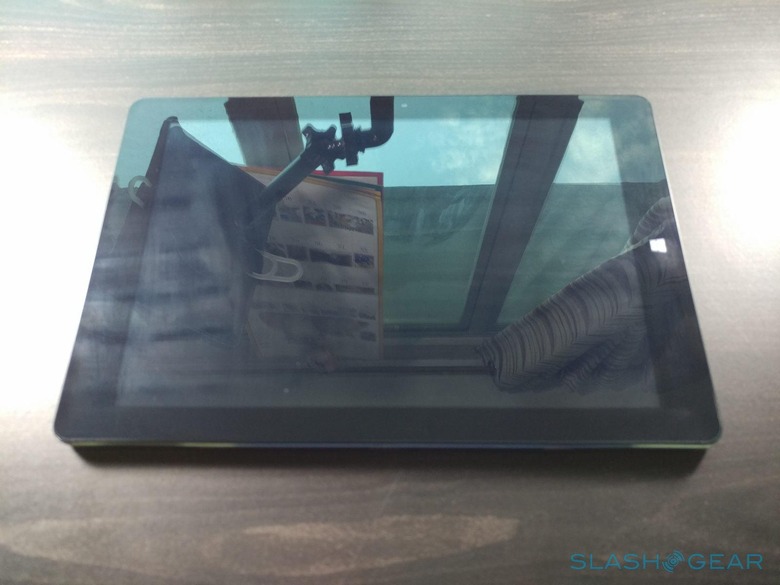 The display is clear but isn't exactly the brightest. That, plus the very reflective surface, makes it painful to use outdoors. The speakers aren't any better. They sound rather flat and volume levels won't be enough to fill a small room. You'll most likely prefer to reach for headphones for all but the shortest sound clips or videos.
Design
In terms of form factor, the Chuwi Hi10 Plus is more like the ASUS Transformer than a Microsoft Surface. But still, unlike the ASUS 2-in-1s, the price only covers the device itself and doesn't include any keyboard cover or dock. In essence, the Hi10 Plus is really just a tablet that happens to be designed with a keyboard attachment in mind.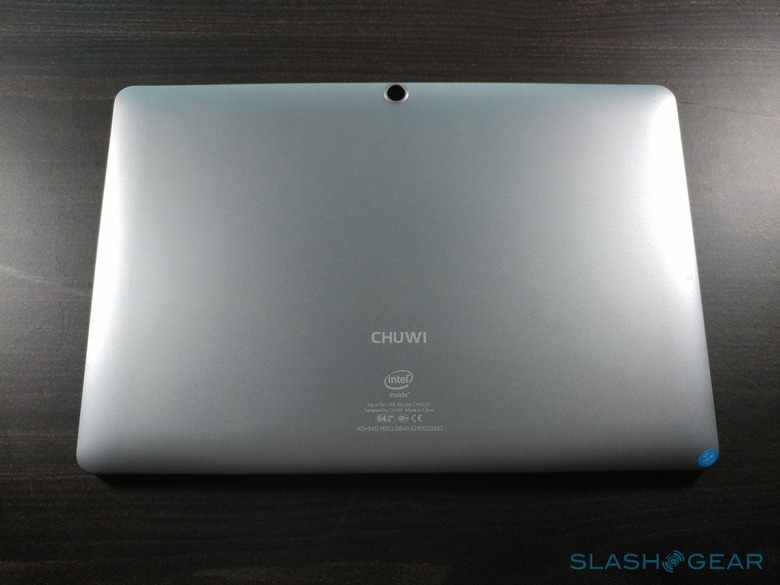 The Hi10 Plus definitely looks premium and its solid and rather hefty build reinforces that impression. The back is plastic though painted with a metal finish to make it look more premium than it really. The sides, however, are metal and the chamfered edges might cut into your palm if you hold it long enough. Not that you will want to, given its weight.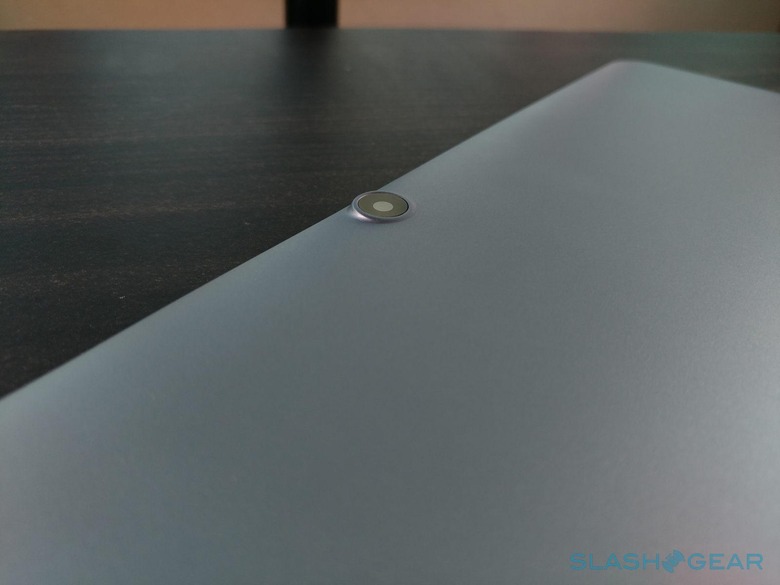 On the back, you have nothing but the required brand and legal markings. While there technically is no camera bump, the way the back curves towards the edges leaves apart of the camera sticking out. And odd design and an accident waiting to happen.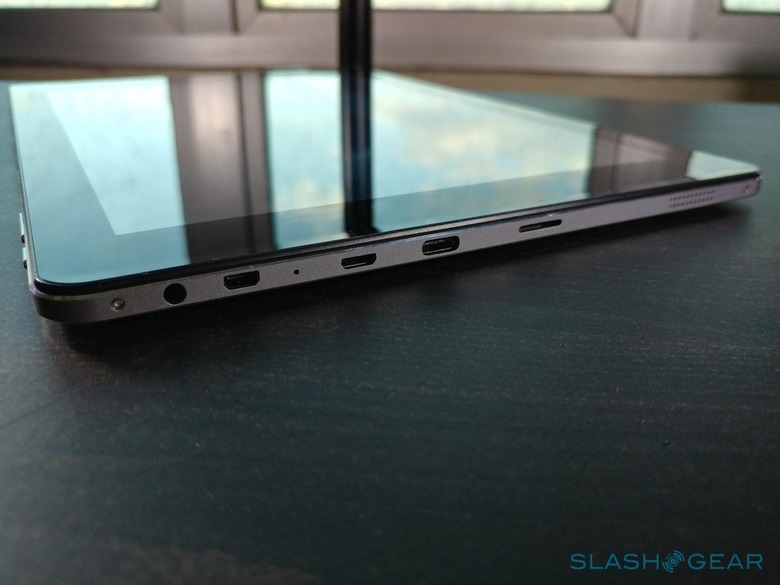 Most of the sides are bare. The right (or bottom, depending on how you hold it) has a lone speaker grille. The top (or right) has the power button and volume rocker only. In stark contrast, the left edge is very busy. You have all the physical ports and slots there, in addition to the second speaker grille. You have a 3.5 mm headphone jack, a micro HDMI port, a microSD card slot, a micro USB port and, surprisingly, a USB-C port. The last is where the Hi10 Plus draws power and the micro USB is used solely for data. It's reassuring to know that you can charge the device while still have room for any external storage or peripheral. A full USB port would have been nice, but at this size, it would have been nearly impossible.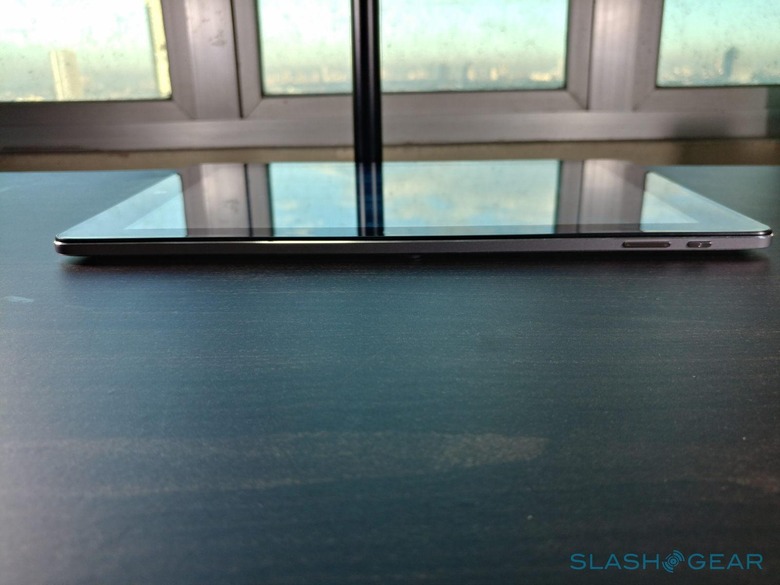 On the bottom edge lies the only proof that the Hi10 Plus is meant to more than just a tablet. There you have pogo pins and magnetic holes where keyboard accessories can snugly fit in. Unlike with the Surface, however, a keyboard isn't really an integral part of the tablet's experience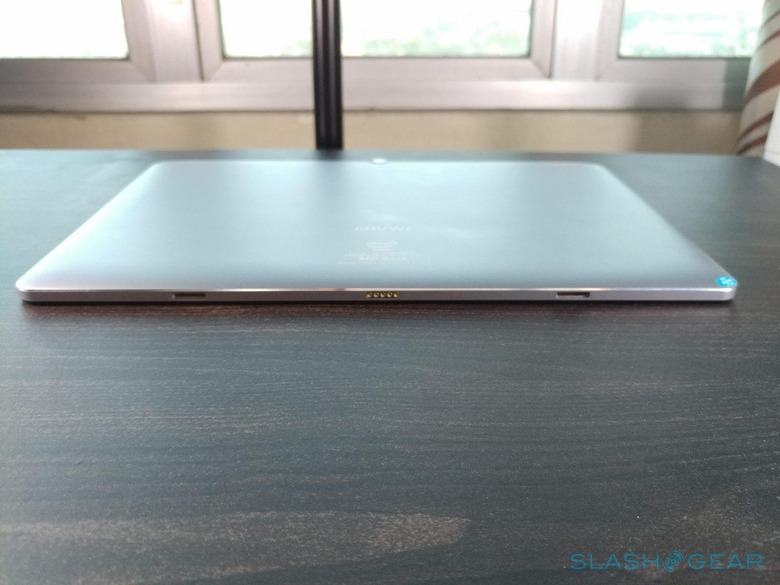 Dual boot
There have been cheap Windows 10 tablets bearing these specs, and some odd Intel-powered Android tablets, too. What makes the Chuwi Hi10 Plus special, of course, is that it combines both for the low, low price of one. On one side, you have Windows 10 Home. On the other, you have a pretty vanilla Android 5.1. If you've ever used a dual boot Windows/Android device before, you'll be familiar with how this works. From Windows, you click on an icon on the desktop to start the process, which will reboot the tablet straight into Android. On Android, the action to boot into Windows is in the Quick Toggles menu.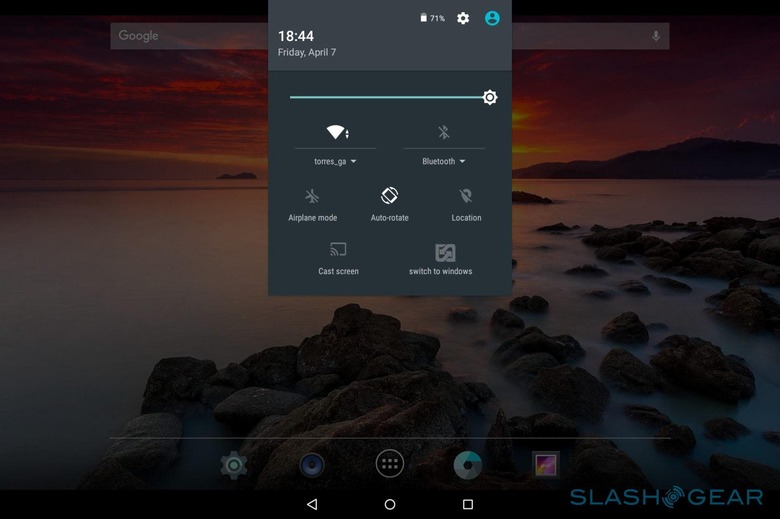 Sadly, the dream of a near seamless way to run Windows and Android side by side died with the Samsung ATIV Q. Rebooting from one OS to another takes anywhere from 15 to 30 seconds. And that depends on whether Windows won't be stuck with installing an update before rebooting. Suffice it to say, don't rely on it too much when you're in a hurry.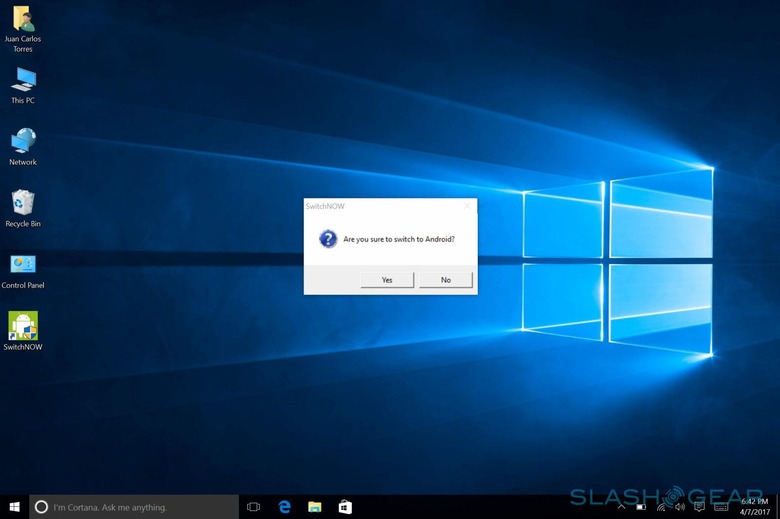 This fine mutual co-existence, however, has some caveats. As mentioned, the device only has 64 GB of storage which has to be shared between the two platforms. And Windows is not known to be efficient when it comes to storage space. Fortunately, Chuwi did the sensible thing and give most of that space to Windows. Even then, of the roughly 45 GB of space, only half of that is available to the user. That leaves Android with a little over 10 GB of room, only 6 GB of which can be used by the user. It definitely feels rather suffocating.
You can expand the storage with a microSD card, but be warned. While the Hi10 Plus can, in theory, support a 128 GB card, you have to be careful how you format it. Android is very picky and won't read cards formatted as NTFS. Even those using exFAT might be rejected. Your best bet would be to reformat the card (after backing it up, of course) using Android's own service.
This all raises the question of what benefit a dual boot system has, given the constraints above. There will always be those who find both Windows and Android to be inadequate for certain use cases and wished they had both without really needing to have two devices. Chuwi's Hi10 Plus and its other tablets are the answers to that with. Although improving, Windows still isn't great at touch screens and mobile apps while Android, at least version 5.1 Lollipop, has a long way to go in productivity.
There is one rather unfortunate note about this dual boot setup that would have addressed that last bit about Android. Earlier units of the Hi10 Plus actually used Remix OS, a custom Android experience that has been fine-tuned for desktops, laptops, and mini PCs, with its movable windows and desktop interface. In short, it's perfect for the Hi10 Plus. It seemed, however, that stability issues forced Chuwi to revert to a plain Android ROM. While some might prefer a "pure" Android experience, Android 5.1 is woefully old and lacks Nougat's split-screen multi-tasking. As such, while the Android side might be great for a touch screen tablet experience, it might fall short in laptop form.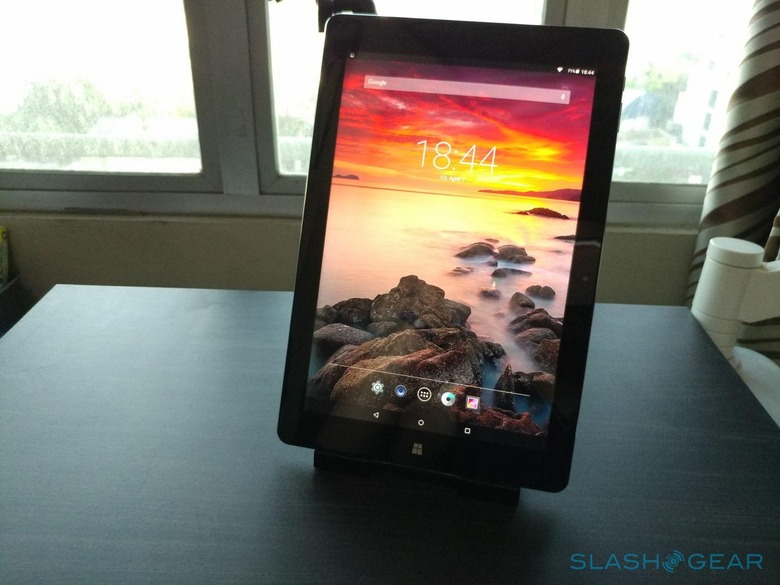 Performance
Remember that part about taming expectations? This is where it might be needed the most. Intel's Atom platform has never been about performance. It was supposed to be Intel's response to ARM's dominance in the mobile market, offering a "power efficient" SoC for Intel phones and tablets. In practice, however, it failed to deliver even on that. The one things that Atom had going for it was that it opened the doors for fanless and cheap mobile devices.
Not that the Atom x5-z8350 is terrible, mind. It has enough power and "energy efficiency" for going beyond menial computing tasks. Document editing, web browsing, and the like are easy peasy. So, too, are videos, since you won't be going beyond FHD quality anyway. With some careful planning and configuration, you can do even more taxing productivity tasks. The x5-z8350 can even handle some very constrained programming on the sides. You can, however, forget about most PC or Android gaming, unless they're on the casual side. Or unless you're willing to dial down your game's settings to low.
Multi-tasking is helped by the 4 GB RAM. Strangely, Chuwi clocked that down to 1066 MHz, even if it's capable of 1600 MHz. That is part of its power-saving measures but at the expense of performance. You can clock it back up in the BIOS settings and most users who have done so have reported no negative consequences other than a shorter battery life.
Despite the 8,400 mAh battery, Chuwi can only promise 4 to 6 hours of battery life on average. Again, Windows isn't exactly known for being a battery saver. Android might fare a bit better in this regard. Chuwi advertises quick charging, though that is mostly thanks to the use of USB-C and not through any technology on Intel's or Chuwi's end. And even then, 5 hours to fully charge the giant battery might not sound so quick.
Accessories
Because the Chuwi Hi10 Plus is at a low, low price of $200, you might end up with enough room in the budget for extras. Depending on what you want to use the tablet for, these may or may not be essential to your overall experience. The good news is that they are also at the fraction of the price of comparable accessories for other tablets. That said, some of them might disappoint you.
The $20 Active Stylus, for example, is advertised to allow you to write or draw on the tablet like on paper. If you presume this would be like the Microsoft Surface Pen or the Samsung S-Pen, you'd be dead wrong. This stylus would be more like an Adonit Jot Dash that has a very fine and solid tip for more precise input. It isn't, however, pressure sensitive, just like Adonit's stylus. It needs to be recharged as well, but any micro USB cable would do. Thankfully, no silly stylus jutting out of your tablet. You have to press a button on the clip to turn it on and press and hold to turn it off. A helpful LED light tells you if it's on. And in case you forget to turn it off, it will do so by itself in a few minutes.
Then there's the $57 Docking Keyboard, which is exactly just that, a docking keyboard. It has two full-sized USB ports to extend the Hi10 Plus' connections, LED indicators for power and Caps Lock, and that's pretty much it. There is no backlighting here. No extra battery or storage either. At 635 g, it weighs nearly as much as the tablet itself but has barely anything to show for it. It does keep the tablet turned laptop from toppling over, but it would have been nice if it had a battery inside as well. Despite the wide space, the chiclet keys are small and cramped. They do have a good amount of travel that typists look for. The touchpad is plastic with a matte texture. You can click on the left or right area for mouse clicks but the touchpad also supports multi-finger gestures as well.
There's also a Keyboard Cover that mimics the functionality of the Surface Type Cover but uses a tri-fold ala the Apple Smart Keyboard to prop up the tablet in a single angle. It also connects magnetically to the Hi10 Plus, so there's no need for charging and no need to worry about Bluetooth. This case costs $37.
Wrap-up
It might be too easy to say "you get what you pay for", but too often that's used pejoratively. In the case of the Chuwi Hi10 Plus, however, that is far from the whole picture. You'd be hard pressed to find a $200 tablet that has "good enough" specs and ran Windows 10 and Android side by side. It has the combination of hardware and software to get you through your day, be it work or play, and, with the right accessories, you can turn what is a consumption device into a creation device. Within limits, of course.
Sure, Chuwi could have perhaps done better in some regards, but that would have changed the entire message of the Hi10 Plus. One of the great things about Chuwi is that it actually has a product for almost any tier and budget. And it doesn't seem to be slowing down. There are more capable devices, even dual boot 2-in-1 tablets, but for a higher price as well. But if you're strapped or cash and need a single device that performs both simple Windows and Android duties, the Chuwi Hi10 Plus isn't going to disappoint you that much.