Chumby 8 Hands on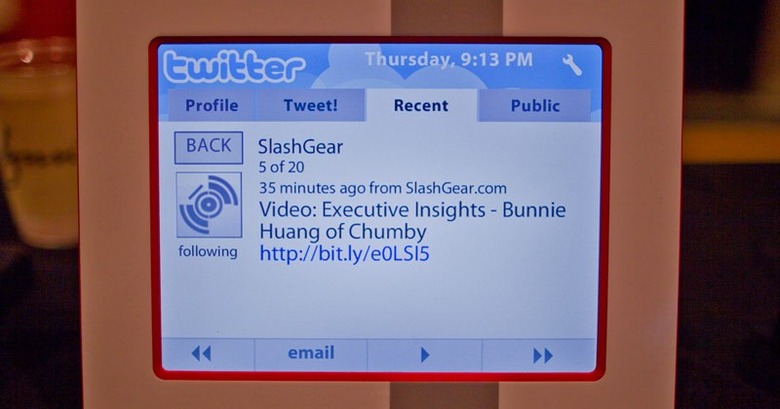 Turns out that the Chumby 2, which was the name of the device a reportedly leaked image was being associated with, is actually called the Chumby 8. And it is indeed thinner, with a base that still promotes the usual USB ports needed to transfer data. Even with a thinner body, the Chumby 8 packs plenty of new features.
The new Chumby still acts as a device to interact with the Internet, and download data. As an Internet radio device, it's able to access thousands of radio stations, as well as stations that deliver podcasts. The device also supports applications, along with the ability to share media. You'll be able to upload images from your favorite sites, and save them onto an external memory card. There are also over 1,500 applications to choose from, including YouTube, Facebook, and Twitter.
The device features an eight-inch LCD touchscreen display, and an 800MHz Marvell ARMADA 166 processer inside. There's 128MB DDR2 SDRAM, along with an internal 2GB microSD card for storage — which can be upgraded. There's a headphone port, and a microphone port as well. You can check out our hands on photos of the device below.
We're pleasantly surprised with the new Chumby device, especially with the slimmer profile, and the plenty of new features being thrown in.