CES 2009: ASUS Eee Keyboard with integrated touchscreen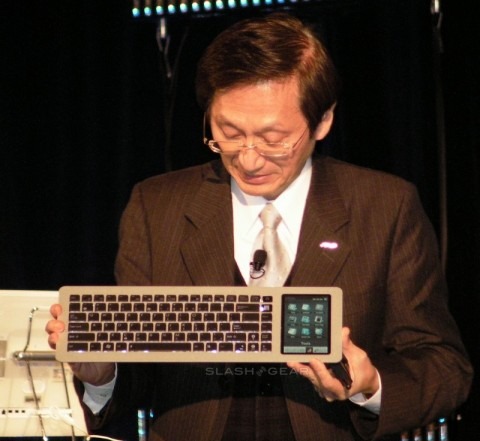 ASUS today unveiled the Eee Keyboard, a full nettop computer built into a keyboard form-factor.  The keyboard, which resembles that supplied with the Eee Top touchscreen nettop, also has a 5-inch display on the right-hand side, together with Ultrawideband HDMI connectivity.
In addition, there's also WiFi b/g/n, an integrated speaker and microphone, and wired ethernet.  The touchscreen can show shortcuts, turning your PC monitor or TV into a photo display, media center or just a computer.
Both audio and HD video are carried by the Ultrawideband HDMI connection, and an external mouse is unnecessary as the touchscreen can be used as a navigation control complete with left and right-click.  No pricing or availability details, nor specific hardware details, were given.