Casio's 10.1 MP Exilim Zoom camera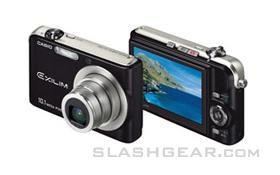 Casio has announced the release of the EX-Z1000, the latest exciting addition to CASIO's stylish series of EXILIM ZOOM digital cameras. The EX-Z1000 captures images of remarkable quality for its very compact size, and its new wide-format Super Bright LCD display gives users the power to enjoy instant, high-impact images of their shots.
The new EXILIM ZOOM EX-Z1000 packs a powerful punch in a sleek, compact package. Small enough to be held in the palm of the hand, its 10.1 megapixel digital camera still captures super high-resolution images that reproduce crystal-clear even in very large sizes – perfect for printing or on-screen viewing of those priceless, once-in-a-lifetime shots.This new model is the first in the series to incorporate a large 2.8-inch, Wide and Bright LCD display. CASIO makes the most of this extra screen space to offer great new functions like simultaneous viewing of a wide angle and a telephoto shot, and a convenient right-side set of icon controls.