Casio G-SHOCK GBA-400 puts features where they belong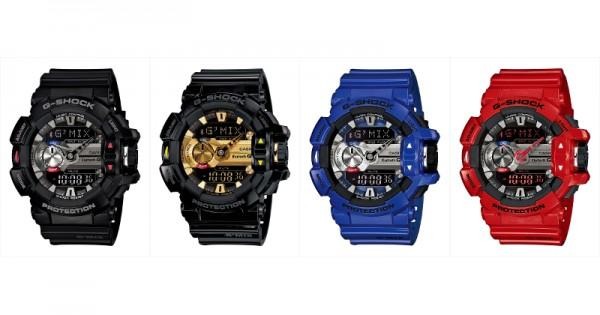 Smartwatches are becoming a fad but veteran watch maker Casio isn't taking the bait. Instead of overloading its Bluetooth-enabled G-SHOCK GBA-400 with smartphone features, it is taking the opposite approach and is putting the "smart" back into the smartphone but still leaves the watch in control.
Even with the advent of these sophisticated and hi-tech time pieces, there are those that will prefer the focus, quality, and craftsmanship that goes into more dedicated watches. That said, they will most likely also appreciate the convenience of being able to do things from their wrist without having to dig out the mobile devices. Simple things like controlling music playback, receiving message notifications, and, conversely, being able to more easily configure the watch from a smartphone app are just some of the things that Casio's Bluetooth Watch G-SHOCK line excels at.
The GBA-400 is the latest of such products. As with any G-SHOCK watch, this one is built, and dressed, for ruggedness. It is both impact resistant and water resistant, up to 20 ATM, making it suitable for marine activities like surface water sports and skin diving. Those used to more classy watches might feel intimidated by the GBA-400's rather bulky appearance, which isn't exactly a bad thing considering that the G-SHOCK is like the armored vans of watches.
Those setting their eyes on this watch for the first time will immediately notice the huge rotary dial at the side. This rather imposing mechanical control is actually the user's gateway to the smartphone, allowing them to control, for example, music playback using twists and turns. The watch communicates with the smartphone via the G-SHOCK+ and G'MIX apps, while the smartphone displays critical information on the watch's high-contrast LCD screen. The GBA-400 has one additional trick up its sleeve. The watch can listen to the music playing around you, pipe it to the smartphone, which uses SoundHound to identify the title of the song and then display that information on the watch's screen.
The Casio G-SHOCK GBA-400 will be available starting September 19 for a price of ¥23,000, around $223. It will come in four rather shiny options of Black and Silver (GBA-400-1A), Black and Gold (GBA-400-1A9), Blue and Silver (GBA-400-2A), and Red and Silver (GBA-400-4A). International availability and pricing are not yet known.
SOURCE: Casio
VIA: Impress