Casio announces G-Shock Bluetooth-equipped smart watch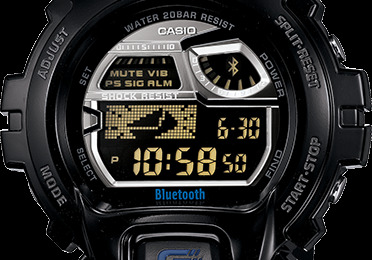 Casio has unveiled its newest smart watch, the Bluetooth-equipped G-Shock GB6900AA series. The watch can be tied to the user's iPhone via the G-Shock app from Casio, allowing the two device to interface with each other in order to provide time syncing, call and email alerts via the watch, and more. You can grab the G-Shock for $180USD.
One of this watch's biggest features is its low energy consumption, something especially necessary given the limited battery space possessed by a watch. It achieves this conservative energy usage via BLE (Bluetooth Low Energy). The G-Shock uses an ordinary watch battery, which lasts approximately 2 years with an average daily Bluetooth usage of 12 hours per day.
The G-Shock features countdown timer, 1/100th second stopwatch, an LED super illuminator, five daily alarms, a mute feature, world time zones, and is shock/water resistant up to 200 meters. The smart watch is compatible with the iPhone 4S running iOS 5.1.1 and 6.0 and iPhone 5. The G-Shock+ app is available for download from the App Store, and is required to use an iPhone with the watch.
Casio's CEO and Chairman of its Timepiece Division Shigenori Itoh offered this statement. "G-Shock continues to be a leader in cutting-edge technology for timepieces. With the release of the Bluetooth LE Smart Watch collection, we are pushing the boundaries of inspired timepieces for the business savvy, technology conscious consumer."