Top Car Navigation Systems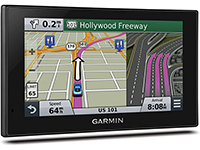 Garmin nuvi 2589LMT
Pros
Bluetooth-capable
Voice recognition
Lifetime map updates
Cons
Low-resolution display
High price
With a 5-inch glass display, this Garmin unit provides everything you need right at your fingertips. The dual-orientation configuration offers pinch-to-zoom for seamless use while you're on the go. It is also Bluetooth-capable and offers voice activation for complete connectivity.
With access to Foursquare data, you can find the latest hot spots in your area for a great time out. Plus, Garmin offers lifetime map updates, so you will never be left out of the loop.
As of publishing, the Garmin nuvi 2589LMT costs $339.99 on Amazon.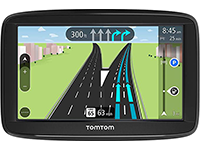 TomTom VIA 1525TM
Pros
Advanced Lane Guidance
Budget-friendly price
Lifetime map updates
Cons
Resistive touch screen
Hard to see in sunlight
There's no reason to spend extra if you only require a basic GPS device. With this TomTom model, you can keep more money in your pocket for other uses. Even with the lower price, it still has all the same basic functions as the expensive GPS units.
The device has a 5-inch resistive touch screen and comes with Advanced Lane Guidance. This feature highlights the proper driving lane to prepare you for upcoming exits and intersections. TomTom provides free lifetime map updates. You can even unplug the GPS for about an hour and use the system on the go if you need walking directions or you're taking your bike.
As of publishing, the TomTom VIA 1525TM costs $133.11 on Amazon.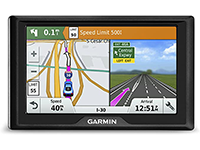 Garmin Drive 50LM
Pros
Up Ahead feature
Reasonable price
Lifetime map updates
Cons
Resistive touch screen
Low resolution
You can also find a low-cost option from Garmin with this 5-inch navigation system. While it has a resistive display, it does come with several advanced features for a safer drive. The device warns when sharp curves are coming up and lets you know if a railroad crossing is expected. It even comes with a fatigue warning that recommends breaks on longer drives.
This system has an "Up Ahead" feature that shows you what's on the route without making you exit the existing map view. The preloaded Foursquare data includes all of the new and popular locations you want to visit. With lifetime map updates, you will always be using the most efficient routes for your drives.
As of publishing, the Garmin Drive 50LM costs $149.99 on Amazon.
Garmin DriveSmart 65 with Amazon Alexa
Pros
Amazon Alexa-compatible
Large high-resolution display
Wi-Fi for easy updates
Another voice-control option from Garmin is the DriveSmart 65, complete with Amazon Alexa compatibility. This advanced system includes a 6.95-inch high-resolution display for complete clarity. The voice control system allows you to find points of interest and directions without taking your eyes off of the road.
Because Alexa is built-in, you also gain a ton of functionality not available with other navigation systems. Ask your Alexa system to play your favorite tunes or check what's on your calendar. You can also get weather updates or control your smart home from the road. While this system might cost more than others, the added functionality gives it good value.
As of publishing, the Garmin DriveSmart 65 with Amazon Alexa costs $229.99 on Amazon.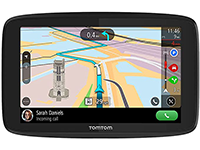 TomTom GO Supreme
Pros
World maps
Speed camera alerts
Share your location function
Cons
Some features only compatible with Android devices
If you are traveling outside of the United States, you might prefer this option from TomTom. With world maps, you can take your navigation system with you on your next vacation. It also downloads the updates over Wi-Fi, so you won't need to connect to a computer to get the latest maps.
With TomTom Speed Camera Alerts, you get notifications of fixed and mobile speed cameras. Plus, this 6-inch GPS offers trip statistics to gain insights into your driving patterns. The price is fair, considering the features combined with free lifetime map updates. Unlike other systems, this TomTom GPS has a feature that lets you share your location with others; however, it's only available with Android devices.
As of publishing, the TomTom GO Supreme costs $249.99 on Amazon.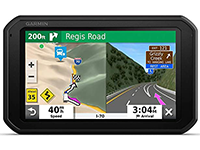 Garmin RV 785 & Traffic
Pros
Designed for RVs
Built-in dashcam
Customization for your RV size and weight
Cons
Hard-to-use voice controls
Expensive
It isn't just a car you may need a navigation system for. If you travel in an RV, it's helpful to have the right GPS navigation device, such as this one from Garmin. The large, 7-inch touch screen is easy to see as you navigate the roads ahead. Plus, it takes into account the size and weight of your RV to customize your route.
Search for locations by amenities, such as propane refills and laundry facilities. The GPS also alerts you if there are hazards ahead, such as weight limits, sharp curves or steep inclines. The built-in dashcam records your drive. Map updates are included.
As of publishing, the Garmin RV 785 & Traffic costs ​​$499.99 on Amazon.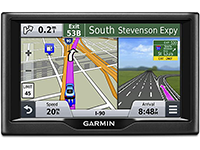 Garmin nuvi 57LM
Pros
Preloaded Foursquare data
Lifetime map updates
Garmin Real Directions feature
Cons
Small screen size
Not hands-free
If you're looking for a smaller vehicle navigation system, you might prefer this 5-inch option from Garmin. Even though it is compact, it still provides Foursquare functionality, so you can find the hottest stores and restaurants in the area. The Garmin Real Directions feature gives you spoken directions that are easy to understand, using recognizable landmarks.
You get free lifetime map updates with this system, and it is compatible with the Garmin BC 30 Wireless Backup Camera. However, this system is not hands-free like many of the others.
As of publishing, the Garmin nuvi 57LM costs $199.99 on Amazon.
How We Found the Best Navigation Systems
We only chose the most popular navigation systems to compare. During our evaluation, we looked at the screen size, map quality, breadth of regions covered and the ease of entering the destination. We also examined what special features are included, such as Amazon Alexa compatibility, Bluetooth connectivity and Wi-Fi, and compared costs to determine the level of value.
Compare Our Picks for Vehicle Navigation Systems
Below, compare our top picks on costs and reviews.
| Brand name | Model | Star rating | Cost |
| --- | --- | --- | --- |
| Garmin | nuvi 2589LMT | 4.4 | $339.99 |
| TomTom | VIA 1525TM | 4.1 | $133.11 |
| Garmin | Drive 50LM | 4.3 | $149.99 |
| Garmin | DriveSmart 65 with Amazon Alexa | 4.6 | $229.99 |
| TomTom | GO Supreme | 4.2 | $249.99 |
| Garmin | RV 785 & Traffic | 4.5 | $499.99 |
| Garmin | nuvi 57LM | 4.4 | $199.99 |
What to Know About Buying a Vehicle Navigation System Online
It isn't difficult to find the best vehicle navigation system for your needs if you know what to look for. Here are a few considerations to think about before making a decision.
Brand: You might notice that we only included the two top brands in our list. While there are plenty of other brands to choose from, many of the companies don't have the same reputation that TomTom and Garmin have. Plus, between the two brands, there are plenty of models, with something for everyone.
Points of interest (POI): The best GPS devices have a comprehensive database of POIs. You shouldn't need to input the address to get to your local hospital, airport, restaurants and shopping locations.
Screen size: If you plan to use the GPS outside your car, you might prefer a compact screen. Otherwise, the larger the screen is, the more easily you can see where you're going without taking your eyes off the road for extended periods.
Traffic updates: Real-time traffic information is helpful if you have somewhere to be at a certain time. Avoid congestion and take an alternate route if the GPS offers this feature.
Map options: If you are only traveling in the United States, you don't need additional maps. However, frequent travelers will want to look for a navigation system that covers Mexico, Canada and other countries for complete versatility.
Lifetime maps: Free lifetime map updates allow you to update your navigation system at no extra cost. As new roads and highways are built, your GPS will have the latest information, making it easier to find your destination.
Price: In general, you don't want the price to influence your decision. However, there's no reason to spend more on a high-end GPS navigation system if you're only planning to use it a couple of times a year. Find the model that has the features you want at the lowest price possible.
Bottom line
If you're ready to ditch the smartphone for a dedicated vehicle navigation system, you have a lot of options at your disposal. Between Garmin and TomTom, you're likely to find a GPS unit that meets your navigation needs and your budget.
Car Navigation System FAQ
The top vehicle navigation systems can cost anywhere from $100 to $500, depending on what you need. The features and screen size are the major factors that influence the price. Systems with Wi-Fi, Bluetooth and hands-free capabilities are higher-priced.
Most new cars offer a built-in navigation system as standard or optional equipment. However, not all systems are created equally. Even if your vehicle has a navigation system, you might find an aftermarket option gives you better results.
It's OK to use your phone for navigation, but there are advantages to using a dedicated GPS device. The screen size is often bigger, the navigation information is optimized and you get a mount for the device in your car. You also don't have to worry about losing cell service or data usage on your phone.