Top Car Batteries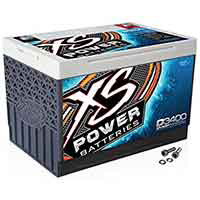 XS Power D3400 XS Series 12V 3,300 Amp AGM with M6 Terminal Bolt
Pros
Sealed battery
High output
Maintains voltage with heavy-duty audio systems
The XS Power is a Group 34 AGM battery with 1,150 cranking amps and 80 amp-hours. You can mount it in almost any position, which means you might be able to make it fit in places where other batteries would not fit. Unlike other performance batteries, this one will fit under the hood of some vehicles.
This sealed battery is vibration-resistant. The electrolytes are suspended in fiberglass for more extended power provision. The ultra-low internal resistance also ensures this battery lasts longer. Expect to pay around $330 on Amazon.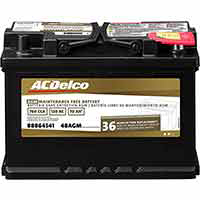 ACDelco 48AGM Professional AGM Automotive BCI Group 48 Battery
Pros
Puncture-resistant back to prevent shorts
Improved acid circulation
Competitively priced
The ACDelco 48AGM battery is a 12-volt silver-calcium battery. The high-density negative paste helps increase battery life, and the alloy/silver calcium improves performance. The improved acid circulation helps to keep the battery from overheating, which also extends the life of the battery.
The ACDelco battery is designed for daily drivers with no major electronic upgrades, such as stereo systems, and fits most GM cars and trucks. It is 11.9 inches long, 7.5 inches wide and 7.6 inches high. You can buy it on Amazon for about $185.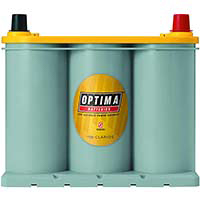 Optima Batteries 8040-218 D35 YellowTop Dual Purpose Battery
Pros
Positive terminal on the right
Vibration-resistant
48 amp-hours
Deep-cycle cranking power
Cons
Some complaints about the warranty
The Optima "YellowTop" battery is a 12-volt battery with 620 cold-cranking amps. The battery is spillproof, so you don't have to worry about acid getting all over your vehicle, especially if you use this as an extra battery to run a sound system. Since the battery is a deep-cycle battery, it is also suitable for those who do not drive every day.
Because the Optima isn't as tall as some stock batteries, it comes with an extender that you can clip onto the bottom of the battery to give it the height you need for your vehicle. (It is 9 5/16 inches long by 6 13/16 inches wide by 7 5/8 inches tall.) You can purchase this battery on Amazon for $250.
Optima Batteries 8025-160 25 RedTop Starting Battery
Pros
44 amp-hours
Leakproof
Resistant to vibration
Strong starting burst
The Optima "RedTop" battery is a 12-volt lead-acid AGM battery that features SAE terminals. The Optima red-top batteries are known for having a much longer battery life than many other batteries. Because this battery is spillproof, you can mount it in just about any position.
It uses Optima's SpiralCell technology for better performance, especially during the winter. This battery is 9.32 inches long by 6.8 inches wide by 7.62 inches tall. It features 720 cold-cranking amps and has a reserve capacity of 90 minutes. The RedTop is available on Amazon for $200.
Delphi BU9078 MaxStart AGM Premium Automotive Battery, Group Size 78
Pros
Corrosion resistance
Manifold venting system
Works well with heavy-duty alternator
Cons
Some warranty complaints
Large battery
The Delphi Group 78 MaxStart battery is a 12-volt lead-acid AGM battery with 775 cold-cranking amps. It is reported to have 20 times the vibration resistance of many other batteries. It has enough power to run the many electronics that come in today's vehicles.
The Delphi battery features fortified posts, welds and straps. The battery is 7.25 inches high by 6.87 inches wide by 10.75 inches tall. It works well in circumstances where you do not start the vehicle every day. You can purchase the Delphi battery on Amazon for about $205.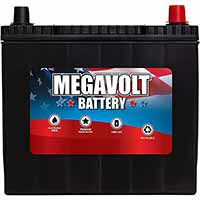 Megavolt Lead Acid Flooded Car Battery BCI 51R, 12V 55AH CCA500 CA525 (51R-60-500)
Pros
Maintenance-free
Recyclable
Older-style flooded battery
Good value
This maintenance-free battery is recyclable. It's a 55-amp battery, so it's for use in passenger cars and smaller vehicles that do not need a lot of torque to turn the engine over.
The Megavolt lead-acid battery is a flooded (wet) battery. Its measurements are 9.29 inches long by 5 inches wide by 8.78 inches tall. You can find it on Amazon for $119.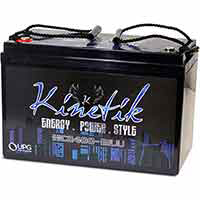 Kinetik (HC2400-BLU) Black Power Cell Battery
Pros
Good price for a high-performance battery
Runs power-sucking audio systems
Threaded terminals
Cons
Too tall for some vehicles
Must use a voltage-limiting charger
The Kinetic Black Power Cell Battery is a 12-volt lead-acid AGM battery with measurements of 12.91 inches long by 12.91 inches wide by 8.68 inches high. The terminals are threaded 3/8-inch terminals. Because this power cell battery is too tall for most applications, it is often used for power-sucking accessories and stereo systems.
This battery runs about $359 on Amazon. You can use it for your vehicle, but you might have to place the battery in the trunk and run the positive wire to the front of the vehicle. You will be able to ground the battery to the frame of the vehicle under the trunk.
How We Found the Best Car Battery Brands
We looked for strong batteries with excellent reviews, as well as batteries users prefer for drag-racing. Drag racers do not use an alternator, as it robs horsepower; thus, the battery has to have the ability to withstand charge after charge without quick depletion. These batteries will withstand cold weather and the use of large sound systems and other power-robbing accessories better than the less expensive batteries.
Compare Car Batteries
Compare our top picks below on voltage, composition, ratings and costs.
Brand
Model
Battery cell composition
Rating*
Cost on Amazon*
XS Power
D3400
Lead-acid, AGM
4.8
$327.81
ACDelco
48AGM
Silver-calcium
4.4
$184.53
Optima
OPT8040-218 (YellowTop)
Deep-cycle, AGM
4.3
$249.99
Optima
OPT8025-160
(RedTop)
Lead-acid, AGM
4.5
$199.99
Delphi
BU9078
Lead-acid, AGM
4.1
$204.43
Megavolt
51R-60-500
Lead-acid
4.3
$119
Kinetik
HC2400-BLU
Lead-acid, AGM
4.5
$359.15
*On Amazon, as of publishing date
What to Know About Buying Car Batteries
Before you buy a car battery, check with the manufacturer about warranty coverage. If the manufacturer tells you that Amazon covers the battery, check with Amazon for the battery warranty length. Other steps to take include:
Always check the group of your current battery before purchasing an aftermarket battery.
Make sure the battery group size fits your vehicle.
Measure your vehicle's current battery to make sure the size is correct, even if the battery is advertised as the right group.
Check the cold-cranking amps and the amp-hours.
If you want an AGM battery or another specific type, make sure the battery you choose is what you want.
Bottom Line
Before purchasing a battery, make sure you do your research, especially if you purchase the battery online. If you are not sure about the seller or whether the seller will honor or offer a warranty, look to a local brick-and-mortar store for your battery purchase.
Car Battery FAQ
A car battery provides the power you need to turn the starter to start the vehicle. It also provides power to the computers and several other systems that allow your vehicle to run. You can purchase extra car batteries if you want to run a large sound system or if you need to power the house part of an RV.
There are several types of car batteries, including:
Wet cell (SLI) batteries: the old-style battery that required maintenance
Enhanced flooded batteries: a higher-performing version of the SLI battery
AGM batteries: absorbent glass mat batteries are leakproof and maintenance-free; perform much better than a wet cell or flooded battery; instead of using a free-floating electrolyte, the AGM battery's electrolyte is bound to the special glass fiber material in the battery
The cost of a battery depends on several factors, including the type of battery, group size and application. You can find batteries as low as $45. You will pay more for deep-cycle batteries, those with more cranking amps, aftermarket batteries that have more power and batteries with power-saving features.
Your vehicle's battery supplies voltage and amperage. The alternator charges the battery. The only way to know if your vehicle needs a car battery is to test it. If you have a voltmeter, you can test it yourself. However, you must charge the battery in order to test it. Use these steps:
Charge the battery.
While you hold the leads on the battery terminals, have someone start the vehicle.
Watch the voltmeter. If it drops below 10.5 volts when the starter engages, the battery is no good.
If the vehicle starts and the voltage stays above 10.5, you now have to test the alternator.
Have someone turn on the headlights and the stereo. If the voltage stays above 13 to 13.5 volts, the alternator is most likely charging fine, and the battery is fine as long as it continues to hold a charge.
If the voltage goes below 13, the alternator is not charging or the battery will not hold a charge.
Most car batteries last for about three years, and most manufacturers will only warranty a battery for three years. However, under some circumstances, batteries could last five or more years.
There is a benefit to upgrading your car battery early if you live in an area where it gets very cold in the winter. Since batteries do not hold a charge well in the cold, you might consider upgrading a battery in its third year.