Breast Cancer Care Lipgloss Phone Charm from Dorothy Perkins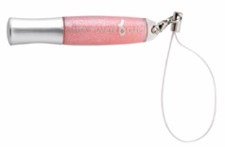 If you're going to cave and finally pick up on the phone charm trend, you might as well find a functional phone charm. This lipgloss phone charm is not only useful but its for a good cause as well.
For those of you that use lipgloss, you are likely aware that they sneak crack in it. I always hated lipgloss, until I borrowed a friend's, now sadly I'm an addict. Having it as a phone charm would prove highly convenient, since my phone is with me at all times the lipgloss would be too.
When you purchase yours for just over $4 all proceeds will go to the UK breast cancer fund which funds research towards the cause.
Dorothy Perkins help Breast Cancer Care with lipgloss phone charms [via shinyshiny]