5 Top Brake Rotors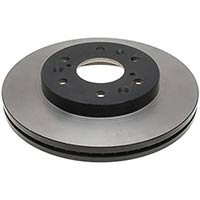 ACDelco Gold Brake Rotor
Pros
GM Genuine Part
OE design
Coating reduces corrosion
24-month warranty
Cons
Limited applications
Sold as a single rotor
ACDelco creates GM Genuine Parts for General Motors vehicles. While the rotor model we've linked to was designed for GM vehicles, ACDelco Gold rotors may fit other makes and models. Confirm compatibility with your vehicle before purchase.
ACDelco rotors are generally highly rated and affordably priced between $25 and $80 on Amazon, depending on the type of rotor you choose. Customers are typically pleased with how smoothly their vehicle stops after installation.
Power Stop Kit
Pros
Includes brake pads and two rotors
Silver-zinc rotor plating
Drilled and slotted for cooling
Bolt-on installation
Cons
Expensive
May include more than you need
Power Stop offers several brake pad and rotor kits online. The pads' carbon-fiber ceramic construction helps eliminate brake dust, while their rubberized shims reduce the noise of the brakes.
Pricing on Amazon ranges from $130 to $150 per axle, and customers are often happy with how easy these rotors and pads are to install. While these kits are on the more expensive side, they can save you money versus buying the pieces individually.
Detroit Axle - Rear Disc Brake Kit
Pros
Includes two rotors and two sets of pads
100% ceramic pad material
10-year warranty
Affordable for a kit
Cons
Limited reviews
Limited product info
Detroit Axle offers another less expensive rotor and pad kit. This kit includes two rear rotors and two ceramic brake pads plus hardware.
This kit costs around $80, making it a very affordable option for full brake replacements. While the example product provided only fits Ford and Mercury vehicles, Detroit Axle does offer additional brake rotors for other vehicles.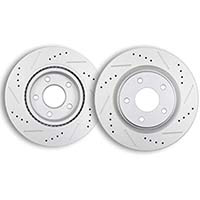 ECCPP Front Brake Rotors
Pros
One-year warranty
Drilled and slotted
OE-style design
Options for multiple applications
Cons
Relatively short warranty
Expensive
ECCPP is an auto parts manufacturer that designed this model of rotor for select years of Nissan Altimas. However, the company also manufactures brake rotors for other vehicles.
These front rotors cost around $100 at the time of writing, but Amazon customers rarely have complaints and report that the rotors work as expected. The company encourages you to use Amazon's Garage feature to find the right fitment.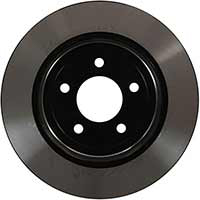 Wagner Brake Rotor
Pros
Turned and smooth finish
Reduced prep time
E-shield protective coating
OE-specific vane design
Cons
Limited warranty info
Limited reviews
Wagner's brake rotors are highly rated and designed for performance. Their E-shield protective coating inhibits corrosion, while the smooth finish shortens the amount of time it takes to break in a new set of brakes.
Wagner offers rotors for a long list of makes and models. If the linked product doesn't match your vehicle, check the manufacturer's other product listings. Amazon customers are very happy with the quality and fit of Wagner's products.
How We Found the Best Brake Rotors
First, we compared online listings to find the products that were most highly rated by consumers. Only products with 4-stars or higher were considered in this initial pass. Once we'd narrowed down our options, we then compared features, pricing, brand recognition and customer reviews to find the most reliable brake rotors available.
Compare Brake Rotors
| Brand | Manufacturer part number | Material | Cost* | Rating* |
| --- | --- | --- | --- | --- |
| ACDelco | 18A1705 | Cast iron | $66.54 | 4.7 |
| Power Stop | K6968 | Carbon-fiber ceramic | $133.82 | 4.7 |
| Detroit Axle | 4PR1700032 | Ceramic | $82.52 | 4.9 |
| ECCPP | 803290-5211-1133211 | Silver zinc plating | $99.99 | 4.5 |
| Wagner | BD125537E | E-Shield protective coating | $34.78 | 4.9 |
*On Amazon, as of publishing date.
Bottom Line: What to Know About Brake Rotors
The right brake rotor for you depends on your driving habits and your vehicle. Consider your manufacturer's recommendation, which rotors fit your car and the conditions in which you'll be driving to make a decision. You can also compare prices and customer reviews to make sure you're making a smart decision. The best rotors balance cost, performance and ease of installation.
Brake Rotor FAQ
Brake rotors are iron discs that are connected to a wheel's hub. They're what your brake pads clamp onto to bring your vehicle to a stop.
The friction and heat of your brake pads compressing the rotors degrade both over time. Hard braking or environmental stress can cause your rotors to age prematurely.
Brake rotors typically range from about $30 to $130 online, but you may pay more in an auto parts store or at your mechanic.
Slotted rotors have shallow slots in the rotor to reduce friction and provide more consistent stopping for heavy or powerful vehicles. Drilled rotors have holes drilled in them and are ideal for driving in rainy weather. Rotors that are both slotted and drilled are available, too.
It depends. Drilled rotors are best for performance in wet conditions, while slotted rotors are better for heavy vehicles, off-roading, towing and competitive driving.