Brabus Bullit Stealth Coupe Packs A Punch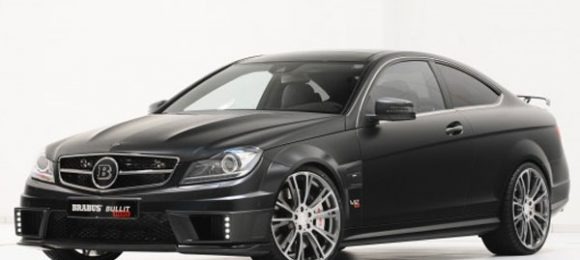 Obviously, there's a difference in what a stealth car or sleeper means between Europeans and Americans. Americans see a sleeper as a car that's stock on the outside, with a lot of go under the hood to surprise people. Over in Europe they called the new Brabus Bullit Stealth Coupe 800 a sleeper, it looks awake to me.
The car has a big "B" in the grill along with a matte black paint job. It also has cool wheels and a few other tweaks. The big draw this car is the twin turbo V12 engine under the hood producing 788 BHP. That's enough motivation to get the car to 100 KM/H in 3.7 seconds. If you keep your foot in it long enough, it needs 23.8 seconds to reach 186 mph on its way to a top speed of 230 mph.
The car is based on the Mercedes-Benz C63 AMG coupe, but the V8 is replaced with the aforementioned massive V12. The engine produces 1047 LB-FT of torque by default, but Brabus limits that torque electronically to 811 LB-FT from 2100 RPM up to prevent you from reducing the tires to molten rubber. The transmission has a seven-speed automatic that has paddles behind the wheel for shifting or a normal automatic mode. The car sells for €378,000 working out about $500,000 in the United States.
[via GizMag]