BMW i8 Spyder revealed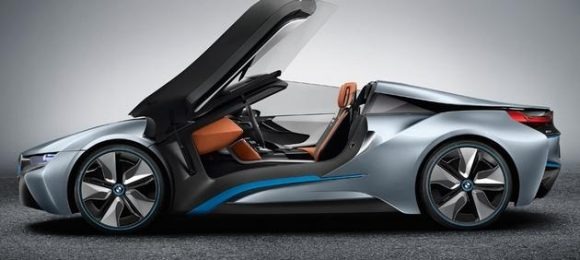 BMW has just released concept pictures of its upcoming i8 spyder vehicle that is planned to head to a BMW dealer near you in 2014. The car will be shown to the public for the first time at the Beijing motor show, next month. The automaker first teased the model as an i8 coupe in 2009, and today it remains only available in pre-production concept form, but it is on its way and still on schedule.
The i8 is based on a structure that focuses on lightweight design, using a carbon-fiber plastic clothed in body panels that are made of the same kind of material. It will have the same differentiated look as the coupe, with designs for aerodynamic efficiency. It's also a full hybrid making it capable of running on either 100% gasoline, 100% electric, or a combination of the two types.
The gasoline tank is stored right behind the rear bulkhead, and the lithium-ion battery is stored in the center tunnel. It's also designed to be able to run with front-wheel drive, rear-wheel drive, or four-wheel drive. The total recharge time for the battery is a reported 105 minutes, the company said. It can run 0-to-62 miles per hour in 5.0 seconds. In electric mode, it has a zero-emission range of up to 19 miles, and it can run up to 78 miles per gallon. Not bad.