Blue Microphones 2nd-Gen Mikey for iPod touch outed with free Blue FiRe app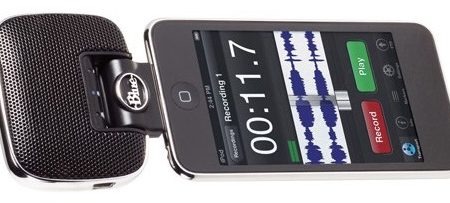 Blue Microphones has updated its Mikey microphone for the iPod touch, with the second-gen model getting a new, adjustable casing that can rotate the twin custom-tuned capsules around 230-degrees.  Since a microphone is no good without an app, the company has also released Blue FiRe, a free, high-fidelity field recording app for iPhone and iPod touch.
There's also a new acoustic circuit which, Blue suggests, is better at handling high-volume events such as concerts.  On the side there's a 3.5mm line-level input, for plugging in external sources, together with a USB connection for recharging the iPod touch during use.
The second-gen Mikey for iPod is available now, priced at £59.99 ($95).  You can download Blue FiRe here [iTunes link].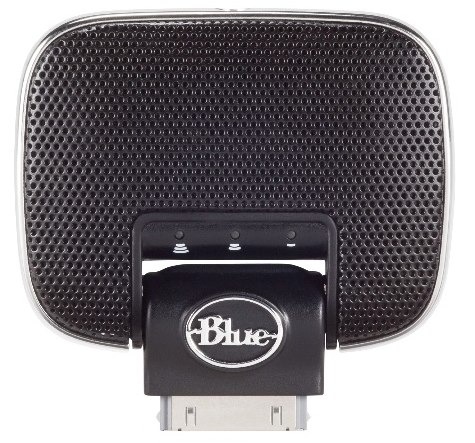 Press Release:
Blue Microphones announces Mikey

New Blue Microphones Mikey for iPod Touch

Westlake Village, California, 29th September 2010 – Blue Microphones (www.bluemic.com), a leading innovator in microphone technology and design, today announces the Mikey. The Mikey is a portable microphone and recorder for iPod and the iPod Touch. Building on Blue's award-winning audio technology, this portable mic is designed to improve circuitry for superior recording, enhancing the iPod's capabilities.

The Mikey features two custom-tuned capsules, engineered by Blue for professional-quality stereo recording capabilities. To accompany its sleek new design, Mikey features an improved acoustic circuit that allows for higher quality recordings of high-volume events, such as concerts or sporting events. Mikey also now boasts a 3.5mm line-input for direct recording of other sound sources such as a guitar or mixer along with a USB pass-thru connection to allow for charging while recording.

With an updated case design, the second generation Mikey is compatible with most protective cases and now features a 230-degree range of adjustability with seven detent positions for perfect positioning. Additionally, the new Mikey comes with a soft carrying pouch for convenient protection and portability. This second generation Mikey is compatible with iPod 5G; iPod Classic, iPod Nano 2G, 3G, 4G and 5G, iPod touch 1G, 2G, 3G.

To complete the mobile audio experience, Blue introduces Blue FiRe, a free, high-fidelity field recording app for iPhone and iPod touch that is now available from the App Store. Developed in partnership with Audiofile Engineering, the Blue FiRe App is optimised for the Mikey – enabling users to have a complete, high-quality mobile recording experience.

"Blue has been working to ensure that the compatibility, quality and user experience of Mikey meets the high standards of our company, and we are proud to release the Mikey to the UK market," said John Maier, CEO of Blue Microphones.

"There are over 200 million iPods out there and with each redesign the units' capabilities increase. Being able to record high quality sound, wherever in the world, from a device that is used every day, opens up a whole host of opportunities. Record your lectures, a friend's band's latest track or just improve the sound on your YouTube videos. Blue is dedicated to providing the highest-quality portable audio and the Mikey is a testament to that standard."

Pricing and Availability

The new Mikey will be available for £59.99 (inc VAT) from www.amazon.com and store.apple.com/uk

For further information on the Blue Microphones Mikey, please visit www.bluemic.com.