Blinky.Shoes are customizable LED light strips for your shoes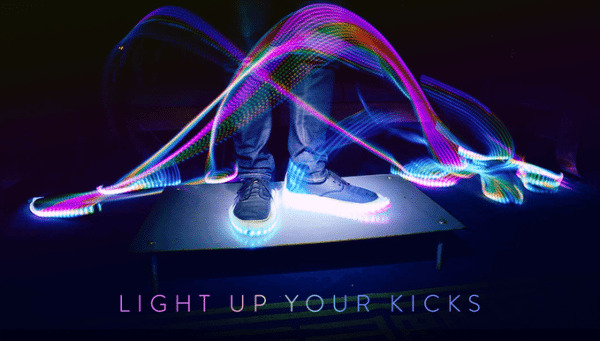 Do you miss those blinking shoes you had as a kid? Blinky.Shoes aims to fill that inner void, and it takes the technology to the next level. Blinky.Shoes are LED light strips with different colored LEDs and an accelerometer. They attach to one's existing shoes via velcro, and have a circuit board and battery pack to control it all. The light strips are also open to customization, and users can program them with their own patterns and designs.
Blinky.Shoes are said to be compatible with Arduino, and can be reprogrammed with open source code being provided as a way to get started. If that sounds like too much trouble, they can be used right out of the box, and center around an accelerometer to detect one's steps and adjust the pattern accordingly.
The batteries are rechargeable, and appear to connect to the control board via a USB cable. The lights can be used as a fashion element or a safety feature — running in the dark with these on your shoes will ensure drivers will know you're there, for example.
Ultimate Celebration was seeking $5,000 on Kickstarter, and has so far raised almost $9,000 USD with 26 days remaining. A $55 USD pledge will get backers a single shoe light strip, while $95 USD will get backers a pair of LED light strips, as well as the cables, battery clips, and velcro. Shipping to backers will start in November of this year.
SOURCE: Kickstarter