BlackBerry Z10 Accessories Hands-On: Bluetooth Speaker, Charger, Holsters Galore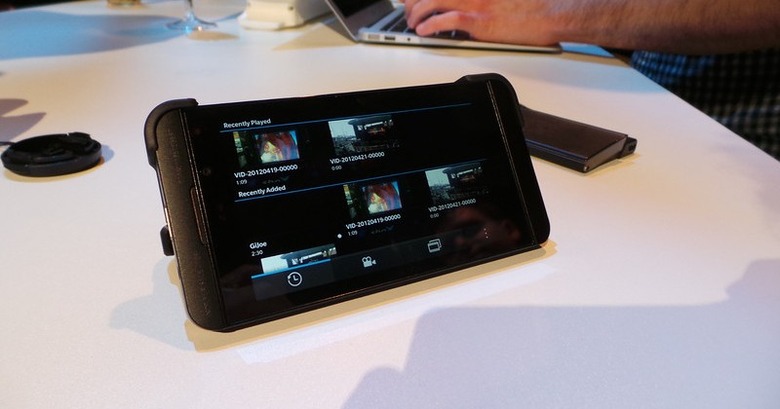 This week the BlackBerry Z10 has been introduced as the first all-touch hero for BlackBerry 10, and along with it come a couple of lovely accessories we've gotten to see up close – speakers, batteries, and all! The BlackBerry Z10 is a smartphone that's meant to represent BlackBerry 10 as both a business and a personal smartphone, this set of accessories therefor acting as extensions of that goal with both audio conferencing and all-day battery life in mind for you, the modern professional.
BlackBerry Mini Stereo Speaker
The Bluetooth speaker you're seeing here is not made to be hinged entirely on the success of the Z10, as it connects with Bluetooth to any device you've got handy. Being able to work with BlackBerry software for conference calls with its own microphone input and loudspeaker output will be fabulous for your future teleconference needs. This beast will be costing you MSRP $100 USD and has a unique shape made to clip on to the many belts in your life – seatbelt, messenger bag belt, or to simply sit on your desk quietly.
BlackBerry Z10 Battery Charger Bundle
The Battery Charger Bundle is a machine that's made to be as sleek as possible in surrounding the Z10 unit specifically. You'll be working with a spare battery that's made for the Z10 which you can charge while you're on the go, switching this and your primary battery out in the middle of the day or whenever you have the need to do so. With this simple accessory you'll never again be without battery life. The Battery Charger Bundle will run you a mere $50 USD MSRP and will be available right around the same time as the Z10 hits stores across the USA and abroad.
Pocket, Transform Shall, Flip Shell, and Holster cases
The main case you're seeing here is the Flip Shell, a fabulous horizontally flipping back cover for the Z10 that'll have you sitting up with ease. The Holster and Pocket cases you'll be seeing soon have magnets that turn the display off on the Z10 when they're closed (or you slip the device inside, that is), and the whole lot will cost you between $30 and $40 USD each. The Shells will cost $35 USD each and the whole bunch will be hitting shelves right around the same time as the Z10 itself – can't wait!