BlackBerry PlayBook Review Roundup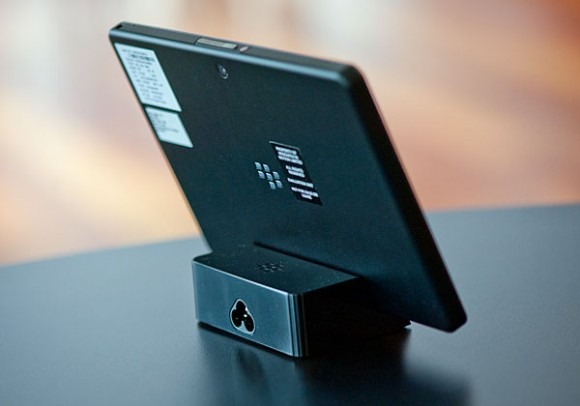 The time has come, RIM fans, BlackBerry's PlayBook has begun to be seeded in the press and the reviews are leaking inward, toward your screen at an alarming rate. What are all these people with tapping fingers and eyes for the Canadian OS giant saying? We've got just the formula for you to find out: a roundup post. That's right, find out right here and right now what the 7" BlackBerry tablet has to offer, with its 16GB, 32GB, and 64GB Wi-Fi models having their $499, $599, and $699 prices respectively. Behold the words of the judges!
Before we begin, perhaps some specs will freshen your memory of this cute little bug of a tablet device:
• 7" LCD, 1024 x 600, WSVGA, capacitive touch screen with full multi-touch and gesture support
• BlackBerry Tablet OS with support for symmetric multiprocessing
• 1 GHz dual-core processor
• 1 GB RAM
• Dual HD cameras (3 MP front facing, 5 MP rear facing), supports 1080p HD video recording
• Video playback: 1080p HD Video, H.264, MPEG, DivX, WMV
• Audio playback: MP3, AAC, WMA
• HDMI video output
• Wi-Fi – 802.11 a/b/g/n
• Bluetooth 2.1 + EDR
• Connections: microHDMI, microUSB, charging contacts
• Support for WebKit/HTML-5, Adobe Flash Player 10.1, Adobe Mobile AIR, Adobe Reader, POSIX, OpenGL, Java
• Size 5.1"x7.6"x0.4"
• Weight 0.9 lb 
First, lets take a peek at our good pal Anand Shimpi over at AnandTech, who take a positively lit look at the device:
Ignoring immediate purchasing decisions, there are some things that RIM has done very right with the PlayBook. Full frame rate playback of 1080p High Profile H.264 content is a huge win. NVIDIA is promising this with Kal-El but RIM and TI deliver it here today. The only thing that's missing is support for .mkv containers and more audio codecs before we can really start putting tablets through our media streamer test suite.

With the exception of BlackBerry Bridge apps, multitasking is ridiculously smooth on the PlayBook. I've never been happy with Apple's multitasking UI and I've been dying for someone to copy webOS since its introduction, so kudos to RIM (and Palm). RIM does have to work on reducing application launch time and providing a consistent 60 fps experience across the OS. The issue with a super smooth UI is that the times when it isn't perfectly smooth really stand out.
Anand goes on to note that there's a complete lack of a built-in email client, calendar, or contact book. We've got to note that these items will basically certainly be available once the device ships via the app market of course, but not having them built in is rather absurd no matter what direction you're looking at it from.
Next is of Tim Stevens of Engadget who decidedly aims directly at the graphics and app handling of the device, noting that while apps load quickly and graphics roll out with ease and grace, there's been more than one update to the software since they got the device in their possession. Is that a good thing? He's guessing probably not:
Graphics are handled by a PowerVR design, which quite handily offloads video decoding and gaming acceleration from the processor, enabling this thing to decode and display 1080p video over HDMI while still ticking along quite smoothly and running productivity apps on the seven-inch display. Not a hint of dithering or pixelation, of course. Apps load quickly, tend to be impressively responsive, and switching from one to the next is effortless.

Early builds of the PlayBook software (we're now on our third since taking possession of the thing) seemingly had some issues managing memory, and on multiple occasions we found upper corners glowing red. Our first thought was that the guns on our CRT had been misaligned by a wayward magnet, but this is just how the PlayBook alerts you to issues, in this case a lack of memory. Memory management seems to be much improved in the most recent build we've received, but you can certainly still kill unwanted apps whenever you want by simply swiping them vertically, off into oblivion.
Walter S Mossberg of Personal Technology from the Wall Street Journal notes that the PlayBook appears to work as a companion for a BlackBerry handset rather than working on its own – Android, iOS, and Symbian users beware!
This odd system, aimed at pleasing security-concerned corporate customers, doesn't work with other smartphones. So, in my view, even though Bridge is a neat technical feat, it makes the PlayBook a companion to a BlackBerry phone rather than a fully independent device. That may be fine for dedicated BlackBerry owners, but it isn't so great for people with other phones. PlayBook owners with other phones must do things such as email and calendar tasks on the tablet using Web-based apps like Google's or Yahoo's via the PlayBook's browser. All other phones can do is provide the PlayBook an Internet connection using their hot-spot features.
Mark Spoonauer of Laptop Magazine comments on the Laptop version of BlackBerry specifically as well:
The BlackBerry Tablet OS is a fresh new platform leveraging two key acquisitions: QNX (for its reliability and Flash support) and TAT (for its interface expertise). Together, these ingredients create an environment that's optimized for multitasking. The UI is strikingly similar to HP's webOS, but we're not complaining.
In the end, it appears that all reviewers are telling you to wait until the device is out for a while to pick it up, this advice especially directed at non-BlackBerry people who may find themselves in for a world of... BlackBerry. But it's only the first round of reviews! Wait and see what everyone else in the world says over the next few days and weeks before you flip out. And if you just want a free one, well, we've got you covered again! Win a free BlackBerry PlayBook with only a few clicks to your buttons!
[via DailyTech]