BlackBerry 7.1 OS official: WiFi tethering, BBM update, NFC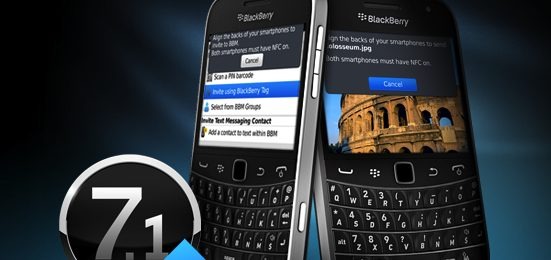 RIM has outed BlackBerry 7.1 OS, the latest iteration of its smartphone software, as well as BlackBerry Tag, an NFC tool used to pair up accessories, swap data and even add new contacts to the similarly updated BBM 6.1. The new version also introduces WiFi hotspot functionality, sharing a BlackBerry's connection with up to five WiFi-tethered devices, a new BlackBerry Traffic 3.0 app with traffic-based ETA and turn-by-turn voice guidance, and boosted universal search.
BlackBerry Tag allows users of 7.1 OS devices to invite a friend to BBM, swap contact information, documents, URLs, photos and other multimedia, or pair their phone with an NFC-enabled Bluetooth device. It's a similar range of skills that we've seen from other manufacturers – Nokia allows for a similar sharing and pairing system with its NFC-enabled phones, and Google has Android Beam for swapping data via NFC – but it should help the short-range wireless system gain traction all the same.
Other new features in BBM 6.1 include animated GIF avatar support, 12 new emoticons, color-changeable chat bubbles and longer personal messages in each user's Profile. It's also easier to set a new user-photo, with an option directly in the camera app.
There are various other new features in BB 7.1 OS, including special offers, coupons, and discounts from nearby vendors in the mapping app, an FM radio being enabled in the BlackBerry Curve 9360 and 9380 (the hardware was already there, but the app was missing), and the universal search suggests answers from Bing.
More information on BlackBerry 7.1 OS here.