BlackBerry 10 Dev Alpha B Phone Teases Full System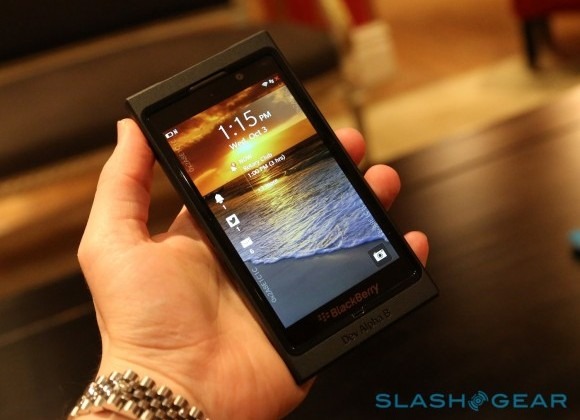 We've had a hands-on experience with the RIM-made BlackBerry 10-toting Dev Alpha B, a smartphone made specifically to show off the next-generation mobile operating system, and it appears that the bits and pieces are really coming together at last. What we're seeing is not a system that relies on the expected BlackBerry stables of the past to keep it brand-strong, but one that retains the strengths of BlackBerry's past and moves forward with new – and nearly unique – features in strides.
Earlier today we posted a features hands-on experience with the Dev Alpha B. This experience showed us that the keyboard, specifically, was of a caliber that's worth noting. It takes what you type and makes it into a learned experience – the way you type is learned and kept so you can type more accurately in the future, and you've got a choice of a variety of languages that you prefer as well. The language libraries you work with are not limited to one, but three different sets at any one time.
The operating system we're looking at here is a much more polished system – or appears that it will be – than we've seen in the latest iterations of BlackBerry in the last few years. BlackBerry is now a system that takes into account the modern world – one that's not limited to basic text setups and physical keyboard-only users. Of course you've still got that option – BlackBerry will not let go of that audience until they're all gone entirely – and they're still keeping with the idea that they will be the name people think of when they think about business-oriented smartphones.
There's a feature in BlackBerry now – one that'll be pushed once again especially with the release of BlackBerry 10 – called BlackBerry Balance. This BlackBerry Balance service allows businesses to work with their employees with locked-down devices that have a "work" side of the phone and a "personal" side, these devices able to be remotely provisioned based on the business' needs. If the user leaves the company, the device's "work" side could be remotely wiped, also.
With the collection of features we've seen thus far, BlackBerry 10 needs just two big elements to make the operating system – and the device ecosystem – work for the market. The first of these is a complete device: the entire system has to feel complete and ready for action – we've seen this somewhat, but RIM will have to make the feel of the system as a solid one readily apparent to the public. The second item RIM needs is to instill a sense of confidence not just in their investors, but in the public as well, confidence in their ecosystem as one that'll be around for a long, long time.
Do you trust in BlackBerry for the future of the smart mobile industry? Stick around and see how RIM does promoting BlackBerry 10 as the OS that brings their brand name back up to the dominant one it was back in its heyday.