Bixby speaker rumors spark even as voice remains absent in US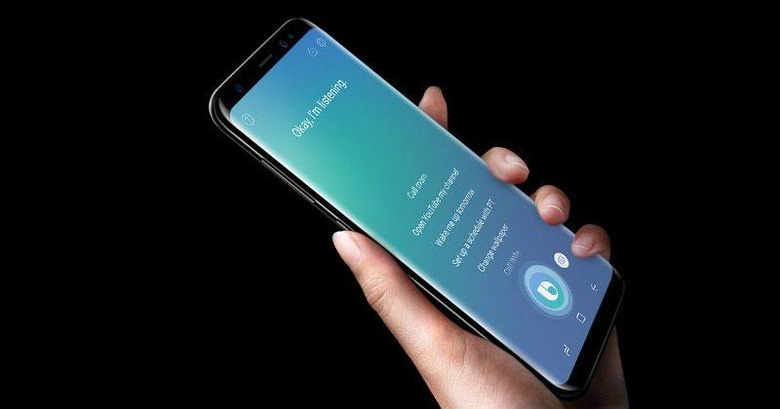 As expected, Apple has just jumped on the smart speaker arena that Google, Amazon, and, soon, Microsoft already occupy. And as expected, this has started rumors that Apple's biggest frenemy will also be joining the fray. Samsung is now believed to be aiming for a piece of that pie, with patents pointing to potential smart speaker powered by Bixby no less.
There is probably no better time to jump on the smart home speaker train. The recent launch of the Amazon Show and Google's promise of new features at the I/O conference last month revived interest in the young and niche product. With Apple and Microsoft joining the game, that market is about to get even more exciting, not to mention profitable.
With its own fledging smart assistant, it only seems natural that Samsung would want in as well. Especially since it now owns audio experts Harman, who, somewhat ironically, is also making the Cortana-enabled Invoke speaker. However, it takes more than just having a speaker and a smart assistant to make a good smart home speaker, especially when the latter is barely even has full voice support.
Bixby's launch on the Galaxy S8 was nothing short of disappointing, as it arrived missing its most compelling feature: voice control. More than just asking it for information like how Apple's Siri or Google's Assistant function, Bixby Voice was supposed to be able to control every aspect of your smartphone just by using verbal commands.
Even if you won't need such a specialized feature in a smart speaker, you'll definitely still need basic voice controls to make a Bixby speaker even a reality. As it stands, Bixby Voice is still missing in the US, with a late June launch now believed to be the earliest estimate.
To be fair, Bixby Voice does already function in Korea. In fact, it recently got an update where Bixby now understands "shortened" instructions like "bank account balance" instead of having to spell it out like "Tell me my bank account balance." That said, the market for a Bixby speaker in Korea might be significantly smaller than in the US, where such devices are more fashionable.
VIA: Korea Herald