Beware USB-C cables that could seriously fry your device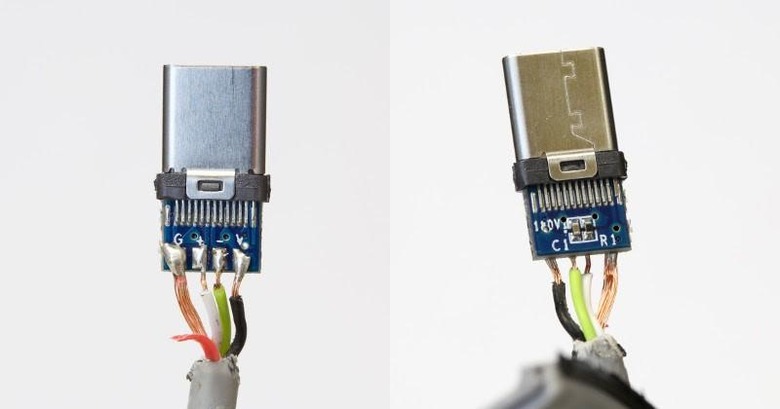 We may receive a commission on purchases made from links.
As part of the team who worked on the Pixel C, Google engineer Benson Leung took it upon himself to survey the myriad USB Type-C cables being sold, particularly on Amazon, for their compliance with the USB specs and accuracy, not to mention safety. Every test carries a risk but Leung perhaps hoped never to come across one as destructive as this. Now he has the war wounds to show for his crusade and at least three dead devices, including a 2015 Chromebook Pixel because of a poorly and incorrectly made USB-C cable.
The cable in focus is a Surjtech 3M USB A-to-C cable, which has since then been taken off Amazon, thankfully. Leung connected the Type-C end first to a Twinkie USB PD Sniffer, which in turn was connected to the said Chromebook Pixel, and the Type-A end to a first party 12 W Apple iPad charger. Immediately upon connecting the line to a power source, the Twinkie failed to function and was permanently damaged. But even worse, the Chromebook Pixel's USB Type-C ports weren't safe either. Both ports failed to function, both for charging and as a host. When the Pixel was rebooted, it went to recovery mode as the Embedded Controller could not be verified. In other words, the Chromebook Pixel was rendered practically unusable.
Leung looked deeper into the case, almost literally by removing the plug casings, and saw the root of the crime. To put it simply, Surjtech totally miswired the cable, which would undoubtedly fry any electronics. To add insult to injury, the cable was advertised to be USB 3.1 compliant, but only had 4 out of 9 wires necessary to implement the Superspeed spec.
It is a sad day for Leung, who says he will be a long time before he makes another test, considering he has nothing to test with anymore. But his experience should be not for naught if it makes consumers become more selective in their USB Type-C purchases. Given the infancy of the spec, many accessory makers might be too eager to jump into the bandwagon, with nary a thought about proper compliance and safety as long as they can make a fast profit.
But then again, even some OEMs are not immune to making a few mistakes. A good rule of thumb, at least for now, is to use the Type-C accessories provided with the device. And maybe browse through Leung's recommendations from time to time as well.