Barnes & Noble NOOK kids for iPad released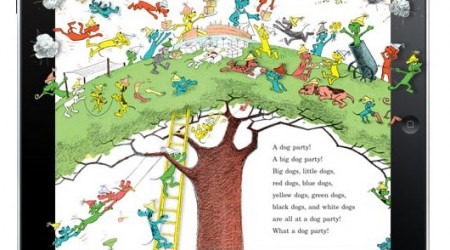 Barnes & Noble has released its NOOK kids for iPad app, offering over 100 interactive children's books and a child-friendly UI. The free app comes with Richard Scarry's Colors and Elephant's Child, and there are 230 interactive picture books to choose from as well.
Parents can lock down specific content via a password, and some titles support text-to-speech. The same titles can be viewed on the NOOKcolor as well. The app is available via iTunes.
Press Release:
Barnes & Noble Extends its Best-In-Class Digital Children's Reading Experience with New NOOK kids™ for iPad™ Application

Company Adds Over 100 NOOK kids Interactive Books to the Largest Digital Collection of Children's Content

New York, New York – January 5, 2011 – Barnes & Noble, Inc. (NYSE: BKS), the world's largest bookseller, today announced it is extending its popular digital children's reading experience to iPad owners with the introduction of the NOOK kids for iPad application, available for free at www.NOOKkids.com/ipad and www.itunes.com/appstore. The new application makes the company's expansive digital catalog of children's content – including 100 new interactive kids' books including Caps for Sale, Skippyjon Jones and Sheep in a Jeep – even more accessible to customers of all ages, bringing iPad owners the state-of-the-art children's reading experience first available on NOOKcolor by Barnes & Noble.

With an entirely new application designed specifically for children, NOOK kids for iPad offers various features exclusive to the NOOK kids reading experience. Using NOOK kids-only AliveTouch™ technology, kids can easily find a favorite story and engage with the books and their favorite characters by digitally turning pages, interacting with the text, zooming in and around graphics – all from the iPad. The application helps parents select which books are appropriate for their children through a password-protected Parent's Corner.

With the NOOK kids catalog, Barnes & Noble offers the largest and growing collection of digital books for kids of all ages, with more than 230 interactive picture books, many with audio narration, for both NOOKcolor and NOOK kids for iPad owners to explore and enjoy. From the Llama Llama series and Max & Ruby to The Snowy Day and Are You My Mother?, customers can easily shop for books organized by age range, and NOOK kids books are presented in a consistent format, so parents and kids can discover a reading experience that is as familiar to them as the content itself. NOOK kids for iPad complements Barnes & Noble's NOOK™ for iPad application which gives older children and adults access to more than 12,000 children's chapter books – coming soon to NOOK kids for iPad – as well as more than two million digital titles.

"Since creating an in-store experience for kids decades ago, Barnes & Noble has helped millions of children and their parents discover books and ignite a love for reading, so we could not be more pleased to bring that experience to new platforms and expand our NOOK kids offering even further," said Jamie Iannone, President of Digital Products, Barnes & Noble. "Since NOOK kids first became available some seven weeks ago on NOOKcolor, parents, grandparents and children continue to tell us they love our winning combination of color, touch and timeless stories. We're excited to extend another best-in-class reading experience to iPad owners, and give parents and children more access to timeless classics and new favorites wherever they go."

NOOK kids for iPad also lets young readers choose between reading books themselves or hearing professional recordings of the stories using Barnes & Noble's exclusive Read to Me™ feature. Kids and parents will enjoy more than fifty titles featuring professional narration which are only available from Barnes & Noble, including story collections from Richard Scarry, Olivia, Thomas and Friends, Barbie and Splat the Cat, as well as popular books such as On the Night You Were Born, The Polar Express, President Obama's new book, Of Thee I Sing, and Go, Dog, Go! – the top-selling NOOKcolor children's picture book to date.

To celebrate the introduction of the newest NOOK app, Barnes & Noble is offering two complimentary children's picture books to new NOOKcolor and NOOK kids for iPad customers – Richard Scarry's Colors and Elephant's Child, which will automatically appear in the customer's digital library upon registration.

Two new online videos bring NOOK kids to life and let customers experience the new, fun and colorful way of reading at their local Barnes & Noble bookstore. The "NOOK Kids Guided Tour" video highlights the exciting ways children and parents can enjoy NOOK, and the "Kids Love NOOKcolor" video shows children exploring NOOK kids content with ease, swiping and tapping their way through some of their favorite reads at a Barnes & Noble book store, one of several with a dedicated NOOK kids reading area which is proving immensely popular. Learn more and view the video at www.NOOK.com/kidslovenookcolor, or visit a local Barnes & Noble today to let your children delight in the NOOK kids experience themselves.