Baratza Esatto and Vario-E want to revolutionize your coffee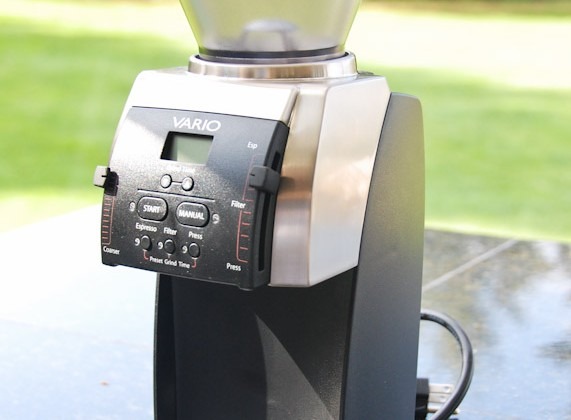 If you take coffee seriously, then you'll know there's more to a premium brew than a huge, shiny espresso machine. In fact, the grinding process makes the biggest difference to your eventual cup, and part of that is getting the exact dose right. Enter Baratza and the Esatto, reports CoffeeGeek, a weight-based dosing system that promises accuracy down to 0.2g variance for the company's existing grinders, as well as the Baratza Vario-E, a full weight-based grinding system in one.
Weight-based dosing has been something of a holy grail for coffee addicts over the years. The problem with traditional grinders is that, even if you know exactly the weight of the coffee beans going in at the top, you can't be sure how much – after you lose some sticking to the mill, to the coffee chute, etc – will come out for the eventual brew. Timed grinding, where you preset a length of time for the grinder to be active, leads to the inevitable variances with different beans and in each different grind.
"You're the home barista. You geek out on coffee, you measure everything. You weigh everything. You time everything. Meanwhile, your spouse just wants a good cup of coffee. This is one more step to he or she being able to have that, on their own, thanks to the grinder doing the weighing for them. You program in the weights and set the preset buttons (there's three). In the morning, your spouse just has to hit one button and voila, the grinder has ground out an exact dose for their morning press pot. Or morning espresso. No muss, no fuss, no scales, no obsessive compulsive home coffee geek looking over their shoulders." Mark Prince, CoffeeGeek
What Baratza has done is integrate a tiny weighing mechanism into a base plate – designed, in the case of the Esatto, to have an existing Maestro Plus, Virtuoso and Preciso grinder to sit on top – which takes over control of the grinding process and shuts it off when a preset weight is achieved. The Esatto uses basic power cycling to control the grinder on top, while the Vario-E actually integrates everything into a single unit for those who don't already have a Baratza grinder.
The Baratza Esatto is expected to go on sale in June 2011, priced at $149. As for the Vario-E, that's expected to add $100 to the cost of a regular Baratza Vario, making it around $549 in the same timescale.