Audiovox D1817PKG - Portable DVD Player with Games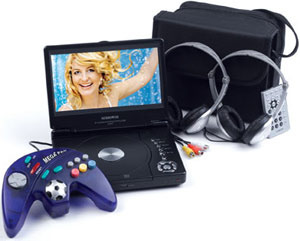 I feel really old when I say this but, I wish I'd had a portable DVD player when I was a kid. It would have made those long car rides so much more enjoyable, especially since I had two siblings to help cramp up the space. A game system for the car would have nice too.
I know a lot of people have these things in their vehicles now, it's quite a luxury, but when you have a big family money can get short. However, a portable DVD player that comes with 30 compatible games is really nice for just over $120. It also comes with a headrest mount, case, 2 headphones, controller and a remote. It plays not on the 30 games but also DVDs, CDs, Mp3s CDR, CDRW and picture CDS.
Sounds like a good deal to me. It's a complete portable package for on the go with you, the kids or anyone. I've actually been planning on getting something like this for my vehicle and it seems I may have found just the one.
Audiovox D1817PKG Portable DVD Player Package Includes Headphones and Video Games Too [via Chip Chick]