AT&T U-Verse Total Home DVR Upgrade Adds Whole-House HD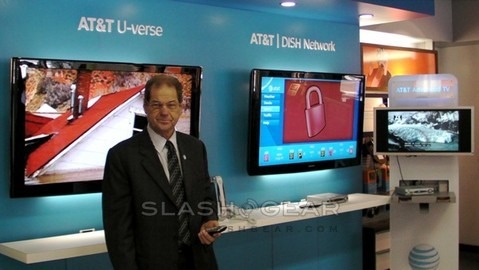 AT&T has unveiled the latest update to their U-verse IP system, Total Home DVR.  The system will allow the playback of recorded content – in standard and high-definition – not only on a U-verse DVR but up to seven connected TVs.  Playback can follow viewers around the house, pausing on one screen and resuming it on another, or alternatively multiple, independent viewings can be watched on separate TVs.
Check out the demonstration videos of U-verse Total Home DVR after the cut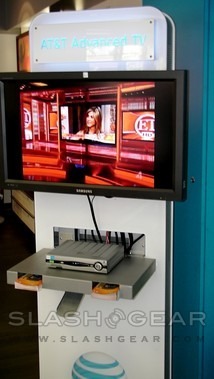 Up to four recorded shows can be played back simultaneously, three of which can be HD, while two live HD programs are also being viewed.  Recordings can be scheduled not only on the DVR itself, but over the internet through the AT&T Yahoo! Mobile Remote Access portal either on a PC or cellphone.  Four recordings per DVR are supported, with a total capacity of 37 hours of HD content or 133 hours of SD content per box.
Usability has been improved as well as flexibility.  Shows can now be grouped by series, streamlining playback options, and "soft padding" automatically adds a buffer to the start and end of pre-scheduled recordings to avoid missing any content.
In the future, AT&T plan to integrate the unified control into its non-DVR receivers, allowing users to remotely schedule, pause and control live TV no matter which receiver they are using.
The update will be installed automatically, using customers' existing equipment.  Total Home DVR is currently being rolled out as a no-cost upgrade to customers in the San Francisco Bay Area; it's expected to extend to all U-verse TV customers by the end of 2008.