AT&T Samsung Galaxy Note shown in leaked photos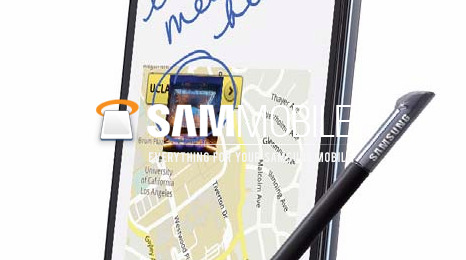 There are two images you're about to see here, both of them showing what our source here is saying is the official AT&T version of the soon to be released in the USA Samsung Galaxy Note. This device is already released in international sectors, that being basically everywhere outside the USA, but has yet to formally be released here in the states. What we're seeing here is basically the same device but with AT&T branded and a slightly different bit of hardware that brings it much more in line with the USA group of Galaxy devices – notably in the front bottom area where the single physical home button has been replaced by the four Android buttons us Americans are used to.
This device is being noted by SamMobile to have one notable addition that the Galaxy Note international edition does not have: an NFC Chip. THis will allow the device to interact with NFC devices galore and very possibly allow it to work with Google Wallet, a system currently only activated on the Nexus S 4G smartphone. This device has a 5.29-inch WXGA Super AMOLED display, Android 2.3 Gingerbread, and a stylus which fits inside the device itself for easy transport.
This device will be launched with TouchWiz 4.0 over the top of Gingerbread, and will come standard with Qik for video chat. Additional bits included in this release of the device with TouchWiz 4.0 are Face Recognition, Augmented Reality, and Multistage for ease in arranging your many apps. The processor is not yet known for this release, but the 8 megapixel camera on the back complete with 1080p video recording appears to be in-tact. This device, like most recent Samsung releases, also features an MHL port which acts as a microUSB as well as an HDMI-out with the correct converter cord, also from Samsung.

This device also will have Android 4.0 Ice Cream Sandwich soon after it launches, but will still be launching with Android 2.3 Gingerbread at the start. The images you're seeing are one press image complete with stylus and one showing the innards with what SamMobile is saying is "NFC Detail." We'll know more soon, we're sure!
[via SamMobile]