AT&T QuickFire officially released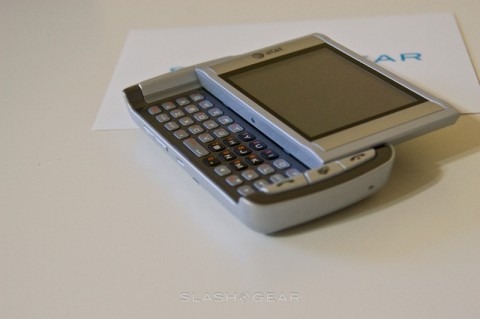 AT&T have officially announced the QuickFire, which we briefly played with over the weekend.  The handset has both a touchscreen and a slide-out QWERTY keyboard, with a similar layout to that of the T-Mobile Sidekick, together with 3G connectivity and a 1.3-megapixel camera.
AT&T are including both Napster Mobile and eMusic Mobile for on-device media downloads, together with their Navigator service.  What the QuickFire doesn't give users is corporate or business email access, however; it's instead intended to work with POP3 and webmail, as well as having an instant messaging client.
The AT&T QuickFire is available both in-store and online now (though the product page is singularly lacking in details), priced at $99.99 with a new two-year agreement and following a $180 mail-in rebate.  Color options include orange, lime and silver.
Press Release:
AT&T Rounds Out Line of Quick Messaging Phones With the AT&T Quickfire

Touch-Screen, Full-Keyboard Mobile Phone a Great Value for Holiday Shoppers

DALLAS, Nov. 10 /PRNewswire-FirstCall/ — Just in time for the

holidays, AT&T Inc. (NYSE: T) today announced the availability of the AT&T

Quickfire(TM), the final of four new quick messaging mobile phones designed

to make messaging faster and easier than ever before. The Quickfire was

developed for AT&T by Personal Communications Devices LLC (PCD).

A slider boasting an interactive touch screen, 1.3 megapixel camera and

full QWERTY keypad, the AT&T Quickfire is a 3G world phone that can read

messages in portrait or landscape mode and also download music over the

nation's fastest 3G network with Napster Mobile and eMusic Mobile.

Quickfire also features AT&T Navigator, which provides turn-by-turn

directions and is available with a 30-day free trial(1).

AT&T's new quick messaging devices are already popular with customers,

allowing everyone from newbie messengers to textaholics to send text,

picture, video and instant messages with ease.

"The AT&T Quickfire is perfect for texting fans who let their thumbs do

the talking and want the benefit of a full keypad but don't need corporate

e-mail access or other business features," said Mark Collins, vice

president of Voice and Data Services for AT&T Mobility and Consumer

Markets.

All quick messaging phones are compatible with AT&T's messaging plans

that offer 200, 1,500 and unlimited messaging for $5, $15 and $20,

respectively. AT&T FamilyTalk(R) plan customers can get unlimited messaging

for all lines for $30.

Users can also browse and purchase thousands of apps, games, ringtones,

graphics and other mobile content in the AT&T MEdia Mall, available from

their handsets and also online at http://www.att.com/mediamall.

Pricing and Availability

The AT&T Quickfire, which comes in orange, lime and silver, is

available through AT&T retail locations or at http://www.att.com/wireless

for $99.99 after a two-year agreement and mail-in rebate(2). For the

complete array of AT&T offerings, visit http://www.att.com. For product

photos, visit http://www.att.com/mobilehandsets-news.

(1) Users must cancel free trial of AT&T Navigator within 30 days or be

automatically subscribed at a cost of $9.99 per month for unlimited routes.

You can cancel from the "My Accounts" portal on your handset or call AT&T

customer care. Standard data charges apply, depending on your plan.

(2) For the Quickfire, pay $149.99, and after mail-in rebate, receive

$50 AT&T promotion card. A two-year service agreement is also required.

AT&T promotion card valid wherever major credit cards are accepted and for

120 days after issue date. May be used to pay wireless bill. Not redeemable

for cash and cannot be used for cash withdrawal at ATMs or at automated gas

pumps.