AT&T Announces Itself PlayStation Vita's Sole Mobile Carrier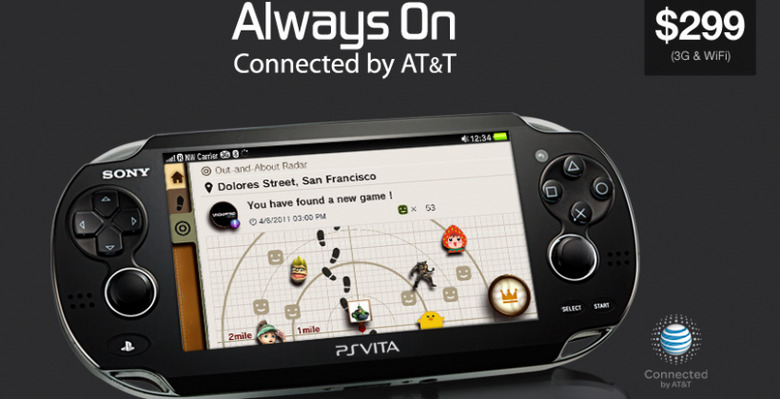 In case you weren't aware of the device known as the PlayStation Vita, let's have a short chat about that first. This is what Sony is calling their first "next generation portable entertainment system that combines gaming capabilities and social connectivity." One might argue that this title should go to the Sony Ericsson Xperia PLAY, but who would say such a thing? Have a look at our Sony Ericsson Xperia PLAY review and come back in to this post and see what you have to say. Next, let's continue to talk about this Vita device. This device is essentially a PlayStation in your hands and will cost $249 and $299 for the Wi-fi and 3G models respectively.
This device of course is the big brother of the Xperia PLAY, it having dual analog sticks, multi-touch rear pad, six-axis motion sensors and a three-axis electronic compass. Of course furthermore you'll be on AT&T instead of Verizon and you'll have not only access to AT&T's 3G network but free access to "more than 24,000 AT&T Wi-fi hotspots across the USA.
This device was officially revealed during Sony's E3 2011 press conference, this confirming the unending rumors throughout the year on a successor to the PSP (PlayStation Portable.) This device looks to be an impressive mix of mobile and compact gaming pleasure, certainly playing along the lines of predecessors that include such fabulous oldies as the GameBoy and the Sega Gamegear – at least that's the oldest examples of such a device as this as your narrator can think of at the moment. What sets this device apart? The internet. Connect now, and forever hold your updates by playing with your friends from the palms of your hands.
Have a look at the press release below:
SONY COMPUTER ENTERTAINMENT AMERICA SELECTS AT&T AS EXCLUSIVE U.S. WIRELESS PROVIDER FOR PLAYSTATION VITA

Nation's Fastest Mobile Broadband Provider to Power Revolutionary

Portable Entertainment Device

FOSTER CITY, Calif., June 6, 2011 – Sony Computer Entertainment America LLC (SCEA) and AT&T* today announced that AT&T, which powers the nation's fastest mobile broadband network, will be the exclusive service provider in the United States for PlayStation Vita, Sony Computer Entertainment's (SCE) next generation portable entertainment system.

The PlayStation Vita system offers a revolutionary combination of rich gaming capabilities and social connectivity that will bring users closer to each other and closer to their gaming experiences wherever they are. Blurring the lines between interactive entertainment and reality, the PlayStation Vita system provides unparalleled portable gaming experiences with dual analog sticks, front and rear cameras, front multi-touch display, multi-touch rear pad, GPS, six-axis motion sensors, and three-axis electronic compass. The speed and coverage of AT&T's mobile broadband network will ensure that PlayStation Vita users will remain connected to content and each other on the go. PlayStation Vita customers with an AT&T service plan will also have free access at more than 24,000 AT&T Wi-Fi hotspots nationwide.

"AT&T's mobile broadband network excels at delivering data with high speeds nationwide, which is what we need for powering the social and connectivity features built into the PlayStation Vita entertainment system," said Jack Tretton, president and CEO of Sony Computer Entertainment America. "PlayStation Vita will give users the opportunity to engage and connect with one another while delivering the kind of rich and immersive gaming experiences unimaginable on any other portable device on the market today."

"AT&T consumers are accustomed to being the first to have access to the most cutting-edge mobile technologies available on the market today," said Glenn Lurie, president, emerging devices, AT&T. "We are thrilled to continue this legacy as the exclusive provider for PlayStation Vita in the U.S. market. By pairing the nation's fastest mobile broadband network and the nation's largest Wi-Fi network with this highly anticipated portable gaming device, PlayStation Vita users will experience a new era of portable gaming that will connect their entertainment and their lives more closely than ever."

AT&T wireless connectivity will enable infinite possibilities for PlayStation Vita users to "encounter," "connect," "discover," "share" and "play" with friends on the go. Within the device are a range of social networking features that provide unique, next generation portable entertainment experiences, including a new application called "near" and an interactive interface called "LiveArea™."

Developed specifically for the PlayStation Vita system and pre-installed on each system, "near" will allow users to find out what other PlayStation Vita users in their vicinity are currently playing and what titles are most popular in the area. Users can meet with friends and new players virtually – regardless of what games they are playing – simply by sharing their game information across PlayStation®Network on the go via AT&T's mobile network, or when they're at a Wi-Fi hotspot. "Near" also enables location-based gaming features such as "gifting," in which a user can access virtual game-related items that other users are sharing, through checking in at geographic locations that others have also visited. The virtual items can include content unlocked from games, such as character costumes, weapons and treasures. Sharing these items between users adds a unique dimension to the portable gaming experience on the PlayStation Vita system while enhancing the social connectivity among the PlayStation Vita community.

"LiveArea™" is an interactive space for each PlayStation Vita software title in which users can access the latest information for games through PlayStation Network. Additionally, users will be able to view an "Activity" log that is constantly updated with accomplishments from users who are playing the same game, which in turn can trigger active real-time communication among users. The AT&T wireless network will enable "LiveArea™" users to connect to their games on the go.

The PlayStation Vita system will have both Wi-Fi and 3G/Wi-Fi models in the US for $249 and $299, respectively. Additional details about AT&T data plans and pricing will be announced later.

*AT&T products and services are provided or offered by subsidiaries and affiliates of AT&T Inc. under the AT&T brand and not by AT&T Inc.