Asus Xonar HDAV1.3 deluxe sound card gets demo, bitstream issue remedied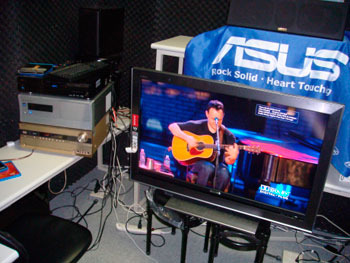 The Asus Xonar HDAV1.3 deluxe sound-card created a lot of fuzz among the HTPC crowd when it was first introduced; no surprises there, the Xonar is the industry's first audio card capable of advanced HD audio codec for Blu-ray playback. The card went on sale shortly, was able to decode audio via the LPCM, but got criticized with inability to bitstream audio formats from the likes of HTPC users with external audio processor/amp. Asus didn't let up, the engineers behind Xonar continued to provide updates for the angry mob, and recently has provided the bitsream's fix said to have remedied the issue.
Reported straight from the motherland of ASUS headquarters in Taiwan, Folks at Tweaktown were treated with a demo of 7.1 DTS MA Blu-ray material on what looked like a HTPC equipped with a Xonar card on a AV receiver setup. The video clearly indicated Xonar ability to bitstream the holly grail 7.1 DTS MA signal, all 8 channels of it (HD demo here). So, there you have it, issue was remedied, case closed.
[tweaktown via engadgethd ]