Asus R50A UMPC - Sports a GPS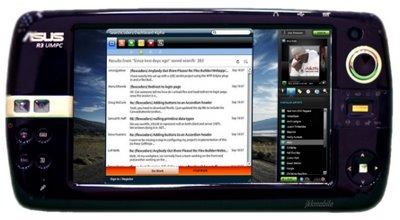 This new UMPC from Asus is like nothing you've ever seen before. the R50A integrates all of the mobile technology you could ever need into one tiny ultra-portable. Plus it's from Asus, who can't seem to produce anything but amazing products right now.
This little PC is packed full of mobile computing goodness. From 3g/3.5g wireless, to GPS, you can do access your data worldwide, and never get lost. The 3G/3.5G is pretty impressive, but we'll see how that affects the battery life of the device. The R50A also has a TV tuner built in so you can catch your favorite terrestrial television networks.
This could be a mobile power user's dream come true. We'll have to wait and see if it lives up to the Asus name, or if it's just another novelty like most other UMPCs. No pricing info is available yet. The R50a should be available some time early next year.
Asus R50A UMPC, official info [via JKKmobile]