ASUS P565 800MHz WM6.1 smartphone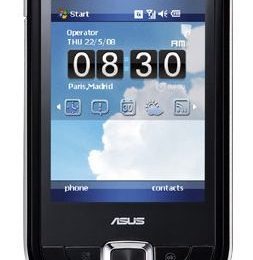 ASUS have officially announced their P565 smartphone, a Windows Mobile 6.1 Pro device the claim to fame of which is an 800MHz processor.  According to ASUS, the CPU is good for Vsbenchmark scores near double those of rival handsets.  Other specs include a 2.8-inch VGA touchscreen, HSDPA 3.6Mbps, GPS, WiFi b/g and ASUS' own Glide GUI, an interface similar in concept to HTC's TouchFLO 3D. 
The P565 has 256MB RAM and 128MB ROM, with memory expansion via a microSDHC card slot.  It measures 102 mm x 60.5 mm x 16 mm and weighs 120g; runtime from the 1,300mAh Li-Ion battery is rated at 3hrs 3G talktime or 4hrs 2G (or 250-300hrs 3G standby, 200-250hrs 2G standby). 
There's also a 3-megapixel rear-mounted camera with autofocus, and a front-facing video-call camera.  The P565 is capable of recording MPEG4 video at QVGA 24fps quality, or playing back MPEG4 video at QVGA 30fps (or H.263 at QCIF 30fps).  It supports the usual Exchange push-email and synchronization.
No prices or availability details from ASUS yet.
[via wmpoweruser]