ASUS Eee Top launching Thursday 20th?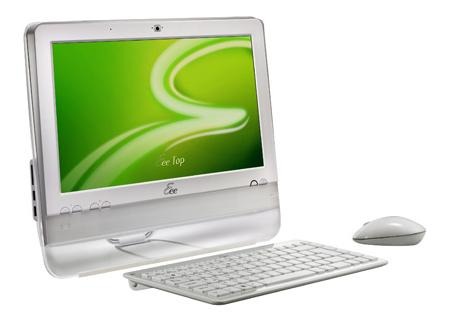 January is a long way off, says ASUS (probably; we haven't actually asked them).  Their Eee Top all-in-one PC is set to launch in the US tomorrow, according to CIO, with two versions of the touchscreen nettop up for grabs.  Both have the 1.6GHz Intel Atom processor, run Windows XP and have ASUS' own finger-friendly interface; the ET1603 adds ATI HD3450 graphics and, although this runs contrary to what we've heard previously, a battery for mobile use.
Each has a 160GB hard-drive, 1GB of RAM, WiFi b/g/n and a 1.3-megapixel webcam.  There's also two 4W speakers, a bevy of USB 2.0 ports and audio input/outputs.  The models are presumably the same as those announced earlier this month.
An ASUS wireless keyboard has just emerged from the FCC, as well, which could either be a peripheral for this current generation of hardware or intended for v.2 of the Eee Top as previously suggested.  No US pricing for the ASUS Eee Top has been confirmed, but the initial suggestions were around $499; UK retailer Play.com have the ET1602 for pre-order at £449.99 with an MRSP of £499.99 ($735/$816) with an estimated release date of November 20th.
[via Engadget]