ASUS Eee Top ET1602 launched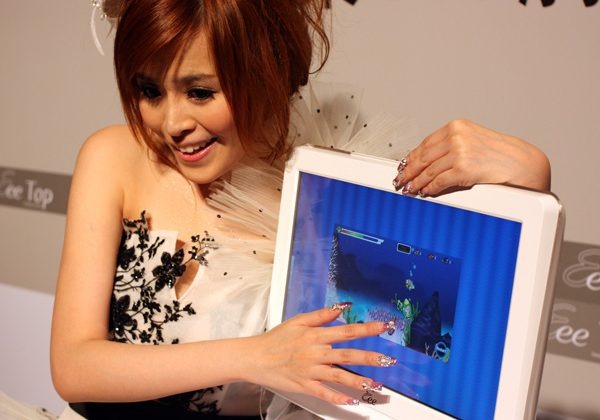 As promised, ASUS have held a glittering launch for the new Eee Top touchscreen all-in-one desktop PC.  Despite having to suffer the indignities of being poked at by models with surprisingly long nails, the Eee Top held up well; Engadget China report that it feels as sturdy as most other EeePC machines, and that the touchscreen is responsive and doesn't require more than the most casual of grazes. 
ASUS' specially developed finger-friendly interface is reportedly good, particularly the audio/video/picture browsers which you can see in the gallery below, but step outside of that and you're back in Windows XP.  Expect to be whipping out the stylus – which hides in a slot built into the Sony-esque keyboard – regularly if you want to avoid the mouse.
Specs are the same as originally reported: 1.6GHz Atom processor, 160GB hard-drive, 1GB of RAM and WiFi b/g/n.  The screen runs at 1,366 x 768 resolution.  No sign of the ET1603 (only the ET1602 was announced today) with its contested specifications, but we do at least have a better idea of pricing than merely the UK figures (which tend to be inflated).  The ASUS Eee Top ET1602 will retail in Taiwan at around 18,900 Taiwan dollars ($580).